Ibrahim Tanko hails Avram Grant's impact in Black Stars at 2015 AFCON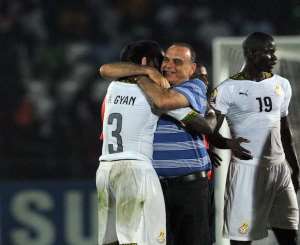 By Ameenu Shardow
Follow on Twitter @alooameenu
Ex Ghana striker Ibrahim Tanko has hailed the impact made by Avram Grant since taking over as coach of the Black Stars.
The former Chelsea boss is receiving subtle plaudits for leading Ghana to the quarter finals of the 2015 Africa Cup of Nations.
Ghana recovered from a disastrous start to their campaign in Equatorial Guinea to qualify to the first knockout stage as winners of Group C.
Avram Grant is gradually reversing the struggling trend of the side into a championship side ahead of its time.
The 56-year-old was only required to 'do well' with the side at this year's tournament to lay a string foundation for cup success in 2017.
But the Black Stars have despite the lowered expectation, defied all odds to make it this far in the competition.
And Ibrahim Tanko who is the assistant coach of the Cameroon team that was kicked out of the tournament at the group stage believes Avram Grant has had a great impact on the team.
"The coach introduced a new system in the first game and I think the opponents took advantage of it to beat Ghana," he told Kessben FM.
"But thereafter the team has been stronger. It is credit to the coach.
"It is not 100 percent but at least it is proving to be effective. Ghana has a good coach.
"The FA I can also see has been very supportive of the coach and I am sure if it continues like this, Ghana will dominate."