Guinea/Mali Quarter-Final Fate Hangs On Lots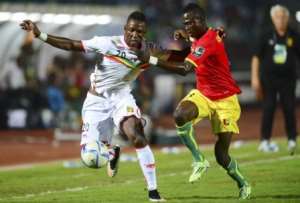 The final place of the AFCON 2015 quarter-final stage will remarkably be decided by the drawing of lots today as stipulated in the Article 74 of the CAF regulations on the African Cup of Nations after Guinea and Mali drew 1-1 in their last Group D match on Wednesday.
The Syli Nationals took the lead in the 15th minute through Kevin Constant's well taken spot kick, but Modibo Maiga leveled the score-line in the 47th minute to end the game in a stalemate.
With both teams haven't played out 1-1 draws in their previous two Group D matches, the law makes it clear that lots will be required to decide who goes through to face the Black Stars of Ghana who came tops in Group C.
The last time such a result was declared at the African Cup of Nations was in 1988, when the drawing of lots favoured Algeria at the expense of the Elephants of Ivory Coast.
The lines below give credence to how the drawing of the lots will be done; Pursuant to Article 74 of the regulations of the Orange Africa Cup of Nations, a random draw will be conducted to determine the second place team in Group D, between Mali and Guinea.
The draw will take place during the meeting of the Organising Committee of the Africa Cup of Nations on Thursday, 29 January 2015 at 16H00 local time at the Hilton Malabo.
The names of the two teams will be presented before being placed into two balls. An official from the audience will be invited to take pick up a ball which will be the team that has qualified for the quarter finals.