Subin MP Cautions Parliament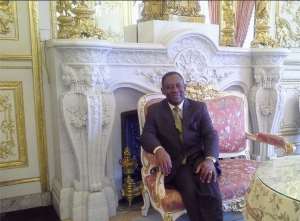 Isaac Osei 
The Member of Parliament (MP) for Subin, Isaac Osei has admonished politicians in Ghana to work together for the benefit of the citizenry.
'As politicians, we must work together solely for the benefit of Ghana not for selfish interest,' he said.
The ranking member of the Parliamentary Select Committee on Foreign Affairs disclosed this on the floor of Parliament recently while speaking on the recent political instability in Burkina Faso which led to the ouster of President Blaise Campaore who led the country for 27 years.
'It is interesting to note that in all the statements made, nobody has publicly mentioned the role played by President Campaore himself in precipitating his downfall and bringing his country to the brink of chaos,' he indicated, adding that former President Campaore failed to judge the mood of his people and did not appreciate the widespread anger.
He underscored the need for public office holders in the country to be competent and accountable to the citizenry.
'Good and smart governance is the hallmark of a government which is responsible, responsive and competent so that all have the opportunity to enjoy the benefits and dividends of democracy,' he stated.
He noted that 'recent developments in Burkina Faso should warn all political leaders about the consequences of process tempering.'
'Mr Speaker, there are a few instructive lessons not only for Guinea Bissau, Nigeria, Togo, Guinea and Cote d'Ivoire who with Burkina Faso have elections in 2015 but also for the 2016 group, which includes Ghana,' he said, adding that 'constitutional provisions may be changed but should not be designed and tailored for the benefit of one man and his cohorts.'
He cautioned the Parliament of Ghana not to allow itself to be bullied by the Executive arm of government and stressed that 'Parliament should assert its independence and not simply be a tool to be used by the Executive.'
Hon Osei stressed the need for political leaders to willingly and peacefully relinquish power at the end of their tenure.
Leaders who pervert the constitutional mandate of the people through vote-buying and ballot stuffing, among others should know that the people's anger cannot be contained indefinitely.
'Elected officials in a democracy have no permanent tenure and political turnovers are acceptable ways of renewing and revitalizing the government of a country,' he stated, and commended the African Union (AU) for responding swiftly to the crisis in Burkina Faso.
By Frank Muzzu
Email:[email protected]