Nico Rosberg hails controlled Brazilian Grand Prix win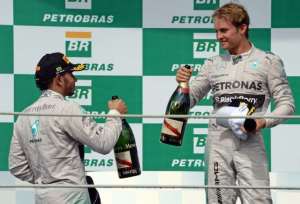 Formula One's dominant team secured a record-breaking 11th one-two finish of 2014 as Rosberg returned to winning ways for the first time since his home Grand Prix in Germany eight rounds ago.
Rosberg ended a run of five consecutive victories for world championship leader Hamilton, whose 17-point advantage is compromised significantly by the introduction of double points-scoring for the season finale in Abu Dhabi later this month.
Having dominated the race weekend, Rosberg was put under sustained pressure as Hamilton regularly ate into his race lead, with a spin from the Briton on lap 28 costing him when he appeared set to take the lead around the second round of pit stops.
"I am very happy with the whole weekend," Rosberg said.
"I was able to attack and control the gap to Lewis in the race.
"It all worked out so that is great and the support has been excellent."
Hamilton chose to take the positives from running Rosberg so close having been second best in practice and qualifying but conceded that his costly spin left a tinge of disappointment.
"Naturally you'll be disappointed when you made a mistake, and I did," he told Sky Sports.
"But it felt great out there. I still caught up, I didn't give up - I kept pushing and that"s what"s most important.
"I lost some points today and I was clearly quickest. In one respect, you've made a mistake and it's a little bit disappointing on that side of things but secondly we've got another one-two, we've broken the record as a team. I've enjoyed the race.
"There's lot"s to take from today. I really was not expecting to be as good as I was today in terms of pace, in terms of looking after the tyres considering I was behind him.
"Apart from that spin, I was really, really happy with the job of the team and myself."