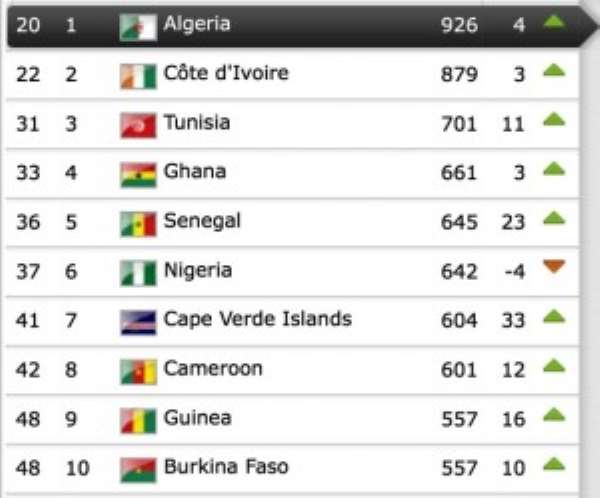 Roughly a week after Ghana defeated Togo in the 2015 Africa Cup of Nations, the Black Stars have moved up three places to 33rd globally in the latest FIFA ranking released on Thursday.
The Black Stars retained their fourth place in Africa with Algeria, Ivory Coast and Tunisia the only countries ahead of Ghana in the rankings.
For a while, there had been no African country in the Top 20 but Algeria has now broken into it by moving four places up.
The Desert Foxes displayed impressive performances in Brazil with World Cup champions Germany needing a hard-fought extra-time victory to dump out Africa's only Last 16 warriors.
There is more good news for African nations. Ivory Coast, who used to be the continent's best according to FIFA, have gone up three places like the Black Stars of Ghana.
Tunisia and Senegal have made incredible jumps, moving 11 and 23 spots up respectively.
However, reigning Africa Cup of Nations champions Nigeria have gone four places down.
the first international break during the 2014/15 club football season, FIFA has updated its Coca-Cola rankings.
Like James Rodriguez's Colombia, Neymar's Brazil have jumped a spot above. The Colombians find themselves just behind world leaders Germany and second-best Argentina. Meanwhile, Spain have gone further down in eighth position despite smashing Macedonia recently.
For Mexico, the United States of America and Roy Hodgson's England, the progress continues. They are 16th, 17th and 18th respectively.  (See further below for the overall Top 25 of the September 2014 FIFA World Ranking.)
Portugal performed poorly at the 2014 FIFA World Cup and hit a new low this month when they lost 1-0 to Albania in the 2016 UEFA Euro Qualifiers. This led to the resignation of hated coach Paulo Bento and the appointment of Fernando Santos. Fortunately for the Portuguese, they've not been demoted in the September 2014 FIFA World Ranking. They remain in 11th position with 1,150 points.