Nyantakyi reveals details of how Sulley Muntari attacked Ghana FA executive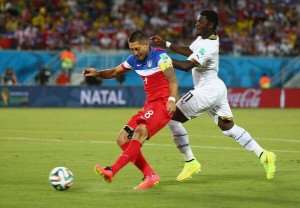 Ghana FA president Kwesi Nyantakyi has revealed that AC Milan midfielder Sulley Muntari landed two punches on the face of one of his executive during talks over the Black Stars World Cup appearance fee stand-off.
The Black Stars management committee member Moses Armah also landed one punch on the mouth of the player, it has been revealed.
Muntari was reported to have attacked Armah without any provocation during a meeting in Brazil but details remains sketchy.
Nyantakyi revealed in an interview on Stage Africa, a sports television show on GTV, how the fight happened:, "I can say there was a punch, actually two punches thrown at Moses and a reply".
"When the first punch came Moses looked at me and I told him not to retaliate which he obliged but before we could say Jack, a second one had been landed and naturally any human being would have retaliated in such circumstance," he said.
"It's a situation I wouldn't want to talk about because it was quite nasty. There was even a glass thrown at Moses by the player which I stopped it with my hand, "he added.
Muntari's father has apologised to Armah while an apology is expected from the AC Milan star.