Hail King César: Brazil have goalkeeper to thank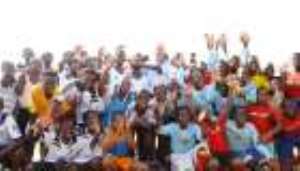 If it's actually meant to be, it will be. Brazil were meant to be in the quarter-final of the 2014 FIFA World Cup tournament. And yes, they did.
That rattling of the Brazil crossbar by Pinilla to leave goalkeeper Julio César helpless two minutes to the end of extra time kind of made the host nation's stay in the competition for the quarter final inevitable.
How could that not go in? The only questions some men in Brazil awaiting some hours of pleasure from a hot Chile porn star might have been thinking and boy will they curse that few inches.
So penalty shoot-outs it was, to give the first thriller of the 2014 FIFA World Culp and send some emotions on a roller-coaster ride.
Brazil haven't been convincing in the tournament and football minds are still baffled as to why Hulk is actually chosen to play for a Brazil squad with talents.
One of such talents who has been outstanding is Julio César the goalkeeper and boy, did they need his genius against Chile.
Not understanding the Portuguese or whatever language he spoke in his post-match interview, I'll take those tears shed as tears of joy.
Not only had César made some excellent saves in open play to help his side, he was on point during the penalty shoot-out.
His two saves of Chile's first two penalties gave hope and kept Brazil in the shoot-outs even after Willian had missed the second of Brazil.
Hulk as useless as he was in open play still managed to make it a close contest in the shoot-out thereby making his uselessness official.
Poster boy Neymar scored the last for Brazil before Chile missed to send the host through but it was King César who actually gave them that opportunity.
All Brazilians will hail him. Just because, but for the exceedingly brilliance of the Brazil goalkeeper, some men would probably be in line for some hours of pleasure, with a Chilean beauty.
Hail King César for sending the host nation to the quarter-final of the 2014 FIFA World Cup in Brazil.