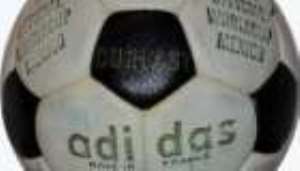 Adam Larsen Kwarasey must be one of the happiest men in the world at the moment.
Just 10 days to participating in his first ever FIFA World Cup, his partner Malin Sveen Feldt has given him a second child; a son born today [Saturday June 7, 2014].
"Welcome son, can't wait to hold you," a happy Kwarasey wrote on his instagram page.
The Ghana goalkeeper, who many have tipped to be coach Kwesi Appiah's first choice at the World Cup in Brazil, is coming off the back of a successful club season where he won the 2013 Norwegian league title and best goal keeper of the season as captain of his club Stromgodset.
Kwarasey suffered an injury scare on Tuesday whilst training with Ghana during camping in Miami, USA, but it turned out to be minor as he returned to training on Thursday.
He was in goal and put in a performance that was praised by many in Ghana's 1-0 loss to the Netherlands a week ago.
Born Adambathia Larsen Kwarasey to a Ghanaian father and a Norwegian mother in Oslo, the agile goalkeeper made his Ghana debut in September 2011 after representing Norway at Under 21 level.
The 26-year-old has gone on to play in two African Cup of Nations tournaments in 2012 and 2013.