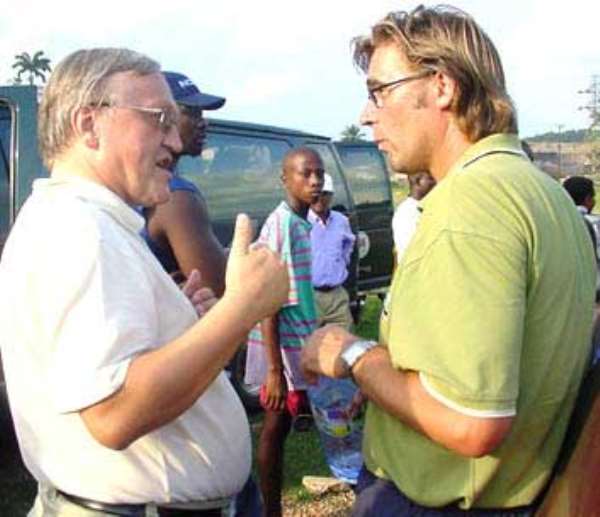 The newly appointed coach of Kumasi Asante Kotoko, Hans Dieter Schmidt (pictured left with Zumdick) visited the playing body at the training grounds of the team at Ridge Park this morning.
Having gotten the news of his arrival from Germany yesterday, SPACE FM kept constant surveillance on the activities the coach. At exactly 6.30am this morning, the coach, in the company of some management members was at the training grounds. The atmosphere was lively as the players took turns to welcome the coach.
Later in an interview, a member of the management Board, Kwame Owusu Ansah disclosed that the coach has come for good to handle Kumasi Asante Kotoko. He would however not disclose the details of the contract. He said the entire playing body and the supporters are happy at the appointment of Hans Dieter Schmidt.
The former King Faisal coach replaces Hans Kodric who was fired last week for what the management described as strings of poor performance. The supporters of the club had been calling for the head of Kodric but the last straw that broke the back of the camel was the goalless drawn game against ASEC in Kumasi few days ago.
Hans Dieter Schmidt is fondly remembered by the fans of King Faisal for his superb technical display during the Coca Cola Top Four which was saw King Faisal beating both Kotoko and Hearts to lift the trophy. He severed ties with King Faisal when it became difficult for Faisal to fulfil the monetary terms of the contract.
Hans Dieter Schmidt is the fifth expatriate coach Kotoko has contracted in the last four years. His immediate assignment is to prepare the team for the first league match against B/A United before the Champions League clash against USM of Algeria.