Atletico force Bacerlona to take a bow out of Champions League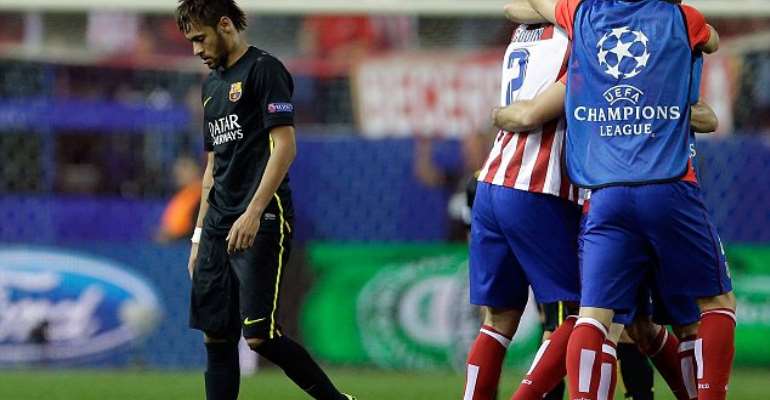 Barcelona crashed out of the Champions League at the hands of Atletico Madrid, who reached the semi-finals for the first time in 40 years. 
It was the first time in seven years that Barça had not reached the last four of the Champions League. 
The Spanish giants had complained 24 hours before kick-off at the length of the grass on the pitch but on the night they could have no complaints. 
Atletico are set to leave their famous Vicente Calderon stadium at the end of next season but even supporters who remember their league and cup double in which coach Diego Simeone played and the 1974 side that reached the European Cup final, will struggle to remember a more incredible night.
For Barca the league is now the focus; that and wondering how they will shore up their shaky defence without the use of the next two transfer windows.  
'The story is not over yet,' said coach Diego Simeone. 'There was a lot of happiness in the dressing room after the game but it doesn't finish here.'
He was also bullish when asked about the ability to keep players such as Diego Costa at the end of the season.
'We can't compete financially with many of the other teams but from a competitive point of view we are a match for anyone.'
Tata Martino looked like a beaten man as he fielded questions about Messi's no show. 
'The team is very down right now but we have to pick ourselves because we have a league to win,' said Barcelona coach. 
His side play Atletico Madrid for a sixth time, on the last day of the season. In the five games played so far they are yet to win and it never looked like doing so on Wednesday night.
Diego Simeone's side were dealt a blow before kick-off with Chelsea target Diego Costa failing a late fitness test. That meant Adrian started in his place. He had scored only two goals all season but coach Simeone promised he would let no-one down. 
True to his manager's word Adrian hit the post in the fifth minute and then, from the rebound, crossed for Koke to score. It was no more than Atletico deserved. 
Lionel Messi had the first shot of the game but it was the last anyone saw of Barcleona's attack for the next ten minutes as the home side laid siege.
All fears that they would be toothless with the injured Costa proved to be unfounded.
Led by David Villa, who played with all this World Cup pedigree and the legs of a man five years younger, they carried the game to Barcelona whose goalkeeper Juan Pinto watched two Villa shots crash off his woodwork and fumbled an unwanted backpass as Barca struggled to stay in the game in the first half.