LIVE: Ghana v Ethiopia (CHAN 2014 Group C Match Day 3)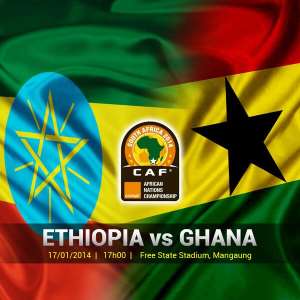 16: 00 – Let's kick off with some words from the coach of the main Ghana National Team, James Kwesi Appiah who is in South Africa to follow the team's progress.
He spoke exclusively to AllSports on his observations of the team over the last two games, which saw Ghana beat Congo 1-0 and draw 1-1 with Libya.
Kwesi Appiah believes that the team can qualify out of the team and go far in this competition. "I am convinced they will, then they can get very far. I will expect them to best Ethiopia and then challenge for the title," the boss said.
"I think if they get out of the group which There have been good moments for the team. In the opening game against Congo I thought the team did not particularly play well because it was their first time and a few of them suffered stage fright. They were improved in the second game especially in the first half when they dominated the Libyans and should have scored more. There are clearly things that needs to be sorted out and I am hoping they will be vastly improved for the last game," he added.
Per the trend of all the teams in the tournament bar Ghana, Kwesi Appiah should have been the man coaching Ghana in South Africa, but his assistant Maxwell Konadu was given the task of coaching the team to allow Appiah concentrate on his duties with the mainstream team.
"What I have tried to do has been not to put any pressure on Maxwell and the players. He is in charge of the team and so I don't have to be at training grounds all the time and all over the place. But I am watching with keen interest," he said.
You can read our full interview with Appiah here. http://allsports.com.gh/2014/01/20/kwesi-appiahs-chan-observations/?utm_source=twitter&utm_medium=kwesi-appiahs-chan-observations/
15: 40 – Hello, we're LIVE!
Welcome to our coverage of today's match between the Black Stars of Ghana and the Walias of Ethiopia. My name is Fiifi Anaman , and I'll be here with you from build up to the game itself!
The Ethiopians are bottom of Group C heading into this game and are already guaranteed an exit, but it's all to do for the Black Stars who will have to win to cement their place in the quarter final.
The Ghanaians are on four points (one win, one draw), level on points with leaders Libya (lead on goal difference) and hotly trailed by Congo, who stand a chance of qualifying ahead of either Ghana or Libya with a win today in their match against the Libyans.
It promises to be an exciting end to this group as three teams all stand a clear chance of advancing into the knockout zone.
Our feature match today kicks of in 90 minutes time at the Free State Stadium in Mangaung, and will be officiated by referee Gehad Grisha from Egypt.
Whilst Ethiopia lost 1-0 to Congo in their last game, Ghana surrendered a first half lead to draw one-all with Libya on Match Day Two. http://allsports.com.gh/2014/01/17/live-ghana-v-libya-chan-2014-group-c-match-day-2/