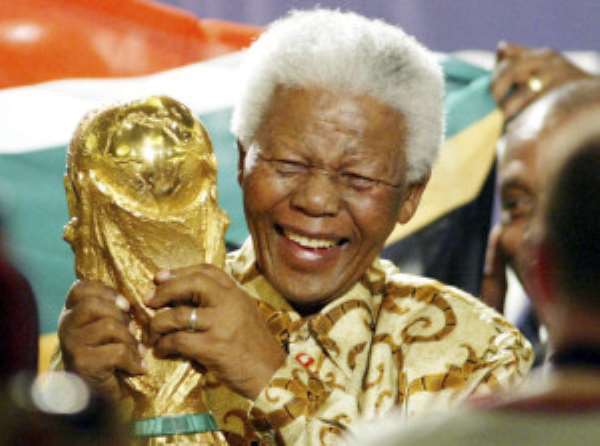 inline_999214584321
http://en.africatopsports.com/wp-content/uploads/2013/12/inline_999214584321.jpg This is big blow to the 'Rainbow Country' and the whole world. The South African legend  Nelson Mandela passed away Thursday night December 5 at 95 years old after suffering a long lung infection.
Nelson Rolihlahla Mandela born 18 July 1918 was a South African anti-apartheid revolutionary, politician, and philanthropist who served as President of South Africa from 1994 to 1999.
He was the first black South African to hold the office, and the first elected in a fully representative democratic election. His government focused on dismantling the legacy of apartheid through tackling institutionalised racism, poverty and inequality, and fostering racial reconciliation. Politically an African nationalist and democratic socialist, he served as President of the African National Congress (ANC) from 1991 to 1997. Internationally, Mandela was Secretary General of the Non-Aligned Movement from 1998 to 1999.
Mandela served 27 years in prison, initially on Robben Island, and later in Pollsmoor Prison and Victor Verster Prison. An international campaign lobbied for his release, which was granted in 1990 amid escalating civil strife. Mandela published his autobiography and opened negotiations with President F.W. de Klerk to abolish apartheid and establish multiracial elections in 1994, in which he led the ANC to victory.
The Nobel Peace Prize 1993  has very early noticed that sport was a vehicle for peace that can bring people together. During the Rugby World Cup that was organized in South Africa in 1995 and won by the Springboks, the man affectionately called 'Madiba' gave a quote that became very famous: 'Football, as well as rugby, cricket and other team sports, has the power to heal the wounds. Sport has the power to change the world.'
After apartheid and racial segregation, which took place in South Africa from 1948 to 1991, Mandela understood that sport could become a symbol of unity found and national reconciliation. Thanks to Mandela, South Africa was granted the organization of World Cup 2010 and become the first African nation to host the world's most prestigious football competition.
Footballers, Coaches and fans in France and England and other countries in Europe consecrated a few minutes to mourn him before the start of games.
Let's cry loud to mourn his death!
Mandela has left us.
A great man has left us.