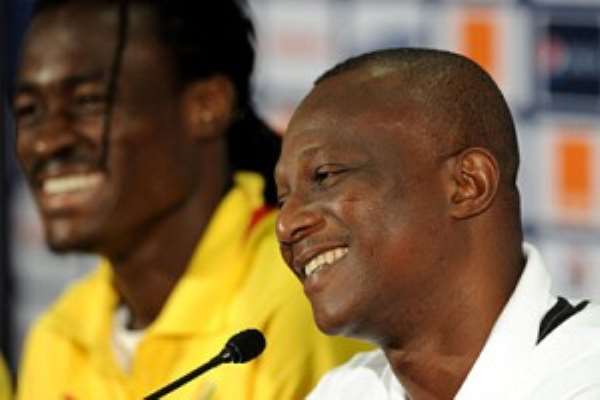 Kwesi Appiah's side Black Stars are in the Group of Death
One of the enduring attractions of the Final Draw for the FIFA World Cup™ comes when more than two big teams are placed in the same group.
Past draws have almost always thrown up at least one section brimming with pre-tournament contenders, and when the dust settles on the first phase, one or two of them invariably find themselves packing for home.
FIFA.com recalls some of the so-called 'groups of death' from previous World Cups.
Fate shared by legends
Many past legends of the game have found themselves confronted with unexpectedly demanding challenges in the first phase of a FIFA World Cup finals. When Pele headed for Sweden in 1958 at the tender age of just 17, making his first memorable appearance on the global stage, Brazil only just scraped through a group that included the powerful Soviets spearheaded by captain Lev Yashin, and an England team boasting the likes of Billy Wright and Tom Finney. The English were the fall guys on that occasion, as Pele went on to strike six goals as he and his fellow countrymen claimed the trophy.
Exactly 20 years later, a truly world-class star of the next generation enjoyed a much less successful debut. At the 1978 finals in Argentina, Michel Platini's France were drawn in a section with the hosts, Hungary and Italy. The French ultimately succeeded only in taking points off the Hungarians, as even the budding talent of Platini was unable to prevent the men in blue becoming victims of a classic 'Group of Death'. There was a minor personal consolation for the gifted midfielder in that he scored against the Argentinians, deflecting a good portion of the flak aimed at the side by a critical domestic media.
"We'll just have to go out and play the difficult games," former Italy national coach Roberto Donadoni declared after a challenging group stage draw for the UEFA EURO 2008 finals. Bowing to the inevitable, he was merely borrowing the philosophy adopted by a number of past coaching colleagues, especially at the 1990 FIFA World Cup in Donadoni's home nation.
England, Republic of Ireland and the Netherlands all clawed their way out of Group F that year. Holders Argentina fell to a shock 1-0 defeat to Cameroon in the opening match, but also scrambled through Group B, behind the Indomitable Lions and Romania. Not only that, Maradona and Co ended up runners-up in the tournament, showing that it is possible to recover from a poor start and still make an impression.
Argentina denied rub of the green
Looking back over FIFA World Cup history, La Albiceleste have been involved in several of the toughest group battles. Of the ten sections which are generally accepted as the most difficult over the last 50 years, Argentina have featured on no less than five occasions. They were certainly out of luck at the two most recent Final Draws. In Korea and Japan in 2002, Argentina failed to survive a section also including England, Nigeria and Sweden, though they did fare better four years later in Germany, where they progressed alongside the Netherlands at the expense of Côte d'Ivoire and Serbia and Montenegro.
Argentina, in 1978, and Brazil, in 1958 and 1970, are the only nations to have emerged from a 'group of death' and gone on to win the trophy. While starting strongly is probably a more important factor than just getting though a tough first phase, it could be argued that a challenging group stage draw is a good thing, as success in the section can be a real confidence-booster, and also sends out a clear message of intent to any would-be rivals.
That will be something the teams in Groups B (Spain, Netherlands, Chile, Australia), D (Uruguay, Costa Rica, England, Italy) and G (Germany, Portugal, Ghana, USA) will want to gain following Friday's Final Draw for Brazil 2014.