Aboutrika Hopeful Egypt Can Eliminate Ghana In World Cup Playoffs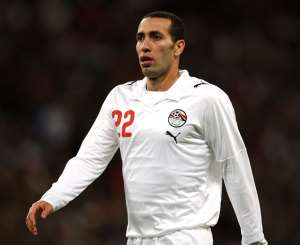 Mohamed Aboutreika,
Egypt star midfielder Mohammed Aboutrika believes the Pharaohs can overturn the massive deficit against Ghana to qualify for the World Cup.
The North Africans suffered a 6-1 rout against the Black Stars in the first leg of the World Cup playoffs last Tuesday in Kumasi.
The massive result appears too strong a cushioning for Ghana towards World Cup qualification ahead of next month's return encounter.
With many believing it is all over the Pharaohs, Aboutrika who announced he will be retiring from football at the end of the season remains hopeful his side can produce the required magic to edge out the Black Stars.
"Football does not know the word 'impossible," he said.
"We will try our best to achieve a score that eliminates the big result in Ghana."
Aboutrika's stubborn believe follows that of captain Wael Gomaa who is also refusing to give up on playing at his first World Cup.
Ghana however remain firm favourites to clinch one of five African slots for next year's World Cup in Brazil.