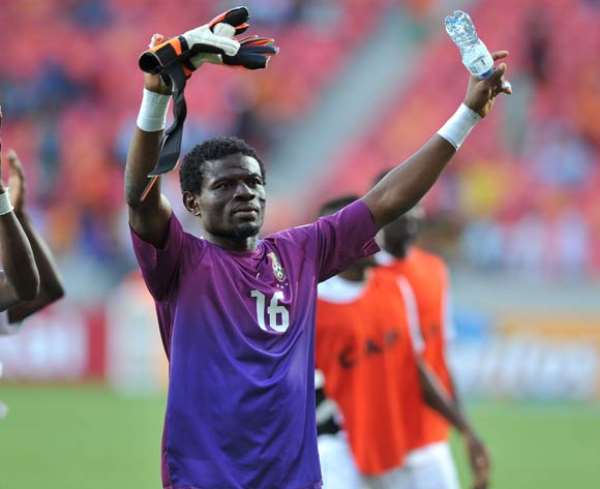 Fatau Dauda is current Ghana number one
Abubakar Damba claims Ghana lacks a stellar goalkeeper to excel at the 2014 FIFA World Cup in Brazil.
The country's current number one Fatau Dauda was touted as the next big thing after he excelled at the 2013 African Cup of Nations in South Africa.
The 28-year-old, who dislodged Adam Kwarasey for the continental showpiece, left many football fans arguing he was world-class following his stellar performances during the tournament.
But he has come under under pressure for his performances in goal, with his recent appearance on the international stage certainly not inspiring a great deal of confidence.
The performance of the Orlando Pirates shot-stopper has led to many questions if he is a world-class keeper capable of holding his own at the World Cup.
Already there have been massive campaigns to recall veteran Richard Kingson into the team ahead of the must-win play-offs against Egypt in October and November.
But ex-Ghana goalkeeper, Abubakar Damba claims the country lacks top-notch shot-stopper to excel at the World Cup.
"To be frank with you we don't have a world-class goalkeeper. That is a fact many will not challenge," Damba said
"We simply don't have it. The World Cup is the biggest stage in football but I don't think the current crop of goalkeepers we have are good enough to excel.
"We must face the reality on the ground and start doing something about it. It doesn't hurt to admit we have deficiencies in the goalkeeping department and start finding solutions.
"Look the World Cup is not a joke. We need goalkeepers who have the quality to shine at the top. But to be honest with you, at the moment we don't have one."
Damba is one of the ex-goalkeeper who have clamoured for the return of old hand Richard Kingson for the BIG showdown.