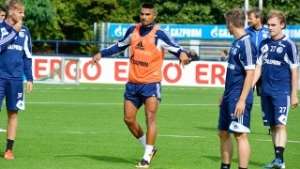 Kevin Prince Boateng has joined Schalke
Ghana midfielder Kevin-Prince Boateng has spoken about his decision not to play for the Black Stars in last week's crucial 2014 World Cup qualifier against Zambia after making his return to the fold following a two-year absence.
Just one day after switching from AC Milan to Schalke, Boateng played for the German side in their home win over Bayer Leverkusen.
Right after that the Royal Blues saw the 26-year-old go to his national team, Ghana, for the key World Cup qualifier but he did not play.
On his club's official website, Boateng talks about his absence for the Black Stars, his preference for Prince and not Boateng at the back of his jersey, the move from Italy to Germany and their upcoming game.
Below is the full interview
On your jersey is written "Prince". Some call you "Kevin". How do you actually prefer to be called?
Most call me "Prince". In Italy, the people I have always called that. But actually I do not care. I listen to both names.
You are only a few days at Schalke due to international duty. How were you received by the fans and your teammates?
The first days were outstanding. The people here are great. Everyone is happy that I'm there. There are also always people who take me in their arms. It's all very cordial. I was also happy in Milan. So it makes me happy and I am very happy that I'm here.
Then the acclimatization to the new environment should not have taken so long?
I'm in Berlin, we are like chameleons. The adjustment was therefore quite easy for me. This has always worked well with other associations, for which I have played. Here it is even easier, because people are all super. The players are well on it, the coach also. That's why I had no problems at all.
However, you cannot escape that not just little is expected from you…
There is a certain pressure that is at Schalke and also on me, I know. But I love the pressure. Without pressure I do not enjoy football.
What were the reactions of your close relations on the change of club?
In the first two days I have received about 150 text messages. It congratulated me, it was from very many friends. They were happy about the fact that I'm back in the Bundesliga again. I would like to also say thank you. Because there simply were very nice and kind words.
Even in your absence, you were still a topic of conversation. Much has been bandied about the reasons for your move from Milan to Schalke …
That's one thing that we will clarify internally and then that's done. I can say that the issue of racism was not the reason why I went away from Milan but definitely, it was purely sporting reasons.
After a two year break, you were back in the circle of the Ghanaian national team. How was it for you, even if you could not play?
 
Beautiful. The team has changed a lot. There are a lot of young players, like here at Schalke. I had to reacquaint myself, because I have not been in the team for a long time. I have a lot of positive feelings from this trip.
Why did you not play in your comeback game for the national team?
 
I had a slightly unstable feeling in the knee. The place was not so good to play on, because he was a bit tough. Therefore, the coach and I had agreed that I will not be used. Every footballer has his problem. I have a little at the knee. But it's nothing bad. I feel great again and have spent the last days also well trained. So there is no reason to worry.
What goals do you have with your new club team?
 
Our goal must always be to win every game. The quality is there, that we showed against Leverkusen. We also want to make against Mainz, again and again. In the team are all young and hungry. About what will happen at the end of the season, we'll see.
You mentioned the game in Mainz. What game do you expect in the Rheinhessen?
 
This is a very difficult game. The Mainz side have an incredibly aggressive setup. We must adapt ourselves. We now have a little more time to prepare for it. But I think we'll be ready. We need to keep a cool head in Mainz in any case. Against Leverkusen we were outstanding. That was the important thing. We have conceded zero goals. That's how you win games. Against Mainz we want to be as safe on the defensive. In the campaign, we have the quality to always score a goal.