More hurdles for AFCON hero, Mba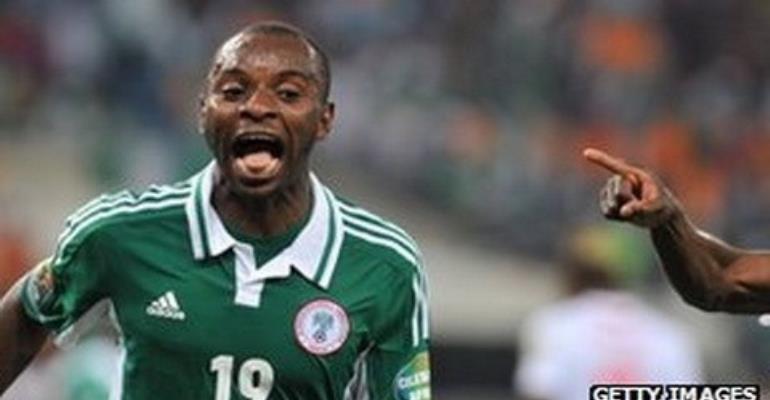 There seems to be no end in sight for the club future of AFCON hero Sunday Mba. Just when it appeared that his travails would soon be resolved amicably, a new twist has appeared in the tussle between Rangers International of Enugu and Warri Wolves over who owns the player.
The Nigeria Football Federation (NFF) through an ad-hoc committee have ruled that Mba still has a contract with Warri Wolves and as such his preferred club Enugu Rangers will have to cough out a transfer fee agreed by both players for the star player.
Wolves are demanding for 12 million Naira (about $75,000) and Rangers have since reacted by saying they are "studying" the offer.
While this impasse continues it is the promising career of Mba that has been put on hold. Mba was a complete shadow of himself during the 2014 FIFA World
Cup qualifier against Kenya in Calabar last month. As it is now, Mba has yet to play club football in Nigeria several weeks after his goal won Nigeria a third AFCON title in Johannesburg, South Africa.
And reports have also suggested that overseas clubs who have shown interest in the player are gradually pulling out of negotiations because they do not know which club they should actually be doing business with.
What is even more worrisome is that both Rangers and Warri Wolves do not appear to be willing to shift grounds as the large-sized egos of their top officials have now got in the way.
Nigeria goalkeeper trainer Ike Shorunmu told MTN.com that the row over Mba has been detrimental to the player's career.
"I am urging and pleading with both clubs (Rangers and Warri Wolves) to settle the case and allow Sunday (Mba) concentrate on his career," said Shorunmu, himself a former international star.
"What is happening is not good for his career. I don't really know what transpired between the clubs on Sunday's transfer, they know. I want them to consider the boys career and settle it in time. It is taking its toll on him already."