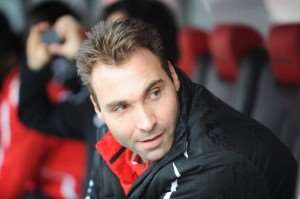 Raoul Savoy pledged this week for the club MC El Eulma, currently 10th in the first division in Algeria.
The Swiss will know his second experience in this country after a failed transfer to MC Oran in 2012.
His goal is to qualify his new African team for an African competition next season: "This is a new commando for me, one more," said Raoul Savoy.
"We are currently tenth in the standings, but we have a game in hand. We will play two matches in eight days. They will already be crucial, " warned the Romand, a member of the technical staff, who will immediately find the right words to motivate his troops.
According to the winner of the Cup, a 5th rank could be sufficient to allow the MC El Eulma sit on one of the African chairs at the end of the year.
Raoul Savoy replaces Belhout Rachid, who was sacked on Sunday.
Technician Journey
Former goalkeeper of Switzerland, Savoy Raoul had to shorten his career because of a shoulder injury. In 1999, he began a coaching career in Switzerland and is given a third division team, the FCBT 99. Two years later, Raoul Savoy flied through Africa, the Tonnerre of Yaoundé.
He participates with the Cameroonian club to the final of the African Confederations Cup, lost the continental trophy, but grew out. In 2003, the CODM (Moroccan D1) called him upon to preside over the destinies of the team for two seasons.
He took the CODM during the two seasons, to the title of champion of Morocco. He qualified the team to the African Cup after 10 years of absence. In 2005, he was voted best coach of Morocco and leaves the CODM with a place in the semifinals of the Cup Morocco.
He continues his Moroccan adventure to Chabab Mohammedia (D1). The team is in trouble and Raoul escaped the relegation before leaving. The Moroccan experience of Raoul Savoy will end in 2006 with Ittihad Tanger with a qualification for the semi finals in the Moroccan Cup and this for the first time in the club's history.
He embarks on a new challenge more interesting to coach the national team of Ethiopia. Forced to listen to his contract for failure internally, he takes the reins of the national team in Swaziland.