October 11, 2012
|
Sports News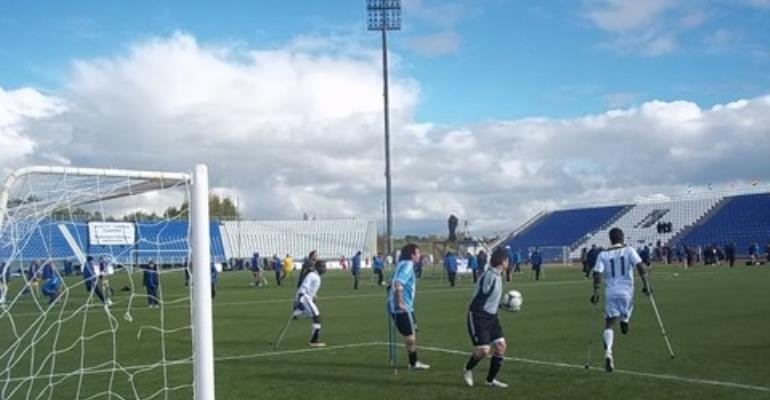 Ghana's dream of qualifying to the next stage of the Amputee Football World Cup suffered a setback when the team lost 1-2 to Argentina in the last group match.
The Black Challenge, Ghana's Amputee National Team, needed just a draw to qualify but conceded two goals and had to fight hard to pull one back, falling short of a goal to make it a historic semi final berth.
The Argentines, who beat the Ghanaians at the last World Cup by 5-0, were more tactical in their play, keeping one player permanently at the top with a more skilful support from their danger man, Augusto Alonso.
After their first half goal, the Argentines intensified their game for their second goal in the other half of the game, putting the Black Challenge in a very difficult situation as the minutes tickled away. The Ghanaians were denied of an opportunity to pull one back when the referees ignored a clear penalty that was rather turned into free kick that was wasted.
The goal keeper used his hand to parry the ball outside the dee (penalty box) but the referee whistled for a free kick instead of a penalty; the players protested but to no avail. The resultant kick was wasted.
Collins Gyamfi, Africa's best scorer, increased his tally to four goals with a free kick in the second half to reduce the deficit. The goal gingered the Black Challenge who played the remainder of the game in the half of the Argentines till the referee blew the whistle for the end of the game.
The weeping players could not get off the pitch after the match as they lamented their inability to make history with just a goal. They now have to play England to fight for the fifth best in the world, still an improvement over the sixth position they currently occupy.
That match would be on Saturday by which time the President of the Ghana Amputee Football Federation (GAFF) and Amputee Football Federation of Africa (AFFA) would have determined his fate in his bid to become the 2nd Vice President of the World Amputee Football Federation (WAFF) at Friday's Congress.