DOMINIC ODURO: SOCCER STAR REPRESENTING THE BLACK STARS ON U.S. SOIL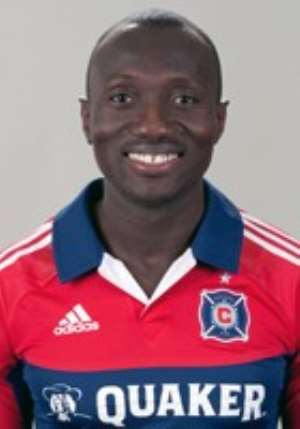 Credit CHICAGO FIRE
Dominic Oduro is one of the leading scorers in Major League Soccer, playing for Chicago Fire. A native Ghanaian, Dominic Oduro was called up recently to represent the Black Stars in the Ghana vs. Chile friendly soccer match in Philadelphia on February 29, 2012, making it the first time he played for the Ghanaian National team. Dominic Oduro, nicknamed the "Bird Man" due to his intense speed on the field, shared his experience in an exclusive interview, describing what will hopefully be the first of many opportunities to represent the Black Stars.
1.What town are you from in Ghana?
Accra

2.How many brothers and sisters do you have?
I have two older sisters.

3.Where did you attend school in Ghana?
Kotoka primary and junior high, Prempeh College, and University of Ghana-Legon, before coming to the United States to finish at Virginia Commonwealth University (VCU).

4. When you were living in Ghana, what were your dreams, professionally? Were you dreaming of being a professional soccer player when you were playing in Ghana?
Yes, all I wanted to do was play soccer as well as finish school.

5.You attended the University of Ghana. Please share some of your positive memories about the university and what hall were you in?
I was in Mensah Sabah Hall, and I had great fun during our hall week. I also had fun with the sports program, especially when we travelled to other universities.


6.What were some of the main differences you noticed between the two universities—University of Ghana-Legon and VCU?
There is a huge cultural difference and life style difference.
7.What course did you study at VCU?
Sociology

8.When you were at VCU you got drafted to join the Major League Soccer Team-FC Dallas. Describe the experience of being drafted.
It was a step towards achieving one of my goals, becoming a professional athlete.

9.Over the past 6 years, you have played with various teams. Please provide a summary of the teams you have played for and the number of years you played for them.
FC Dallas drafted me and I played with them for 3 years. Next, I played with New York Red Bulls for 3 months, Houston Dynamo for 2 years, and now I am playing for Chicago Fire.

10.You are now playing with Chicago Fire and you have at least 2 Ghanaian teammates. How does having fellow Ghanaian teammates influence your experience?
It makes it fun and enjoyable to play.


11.You were recruited to play for the Ghana Black Stars during the Ghana vs Chile game. Can you describe the experience, and how did you feel?
It felt so surreal!! I couldn't believe it! I felt over joyed. Also, as a soccer player, it is a dream come true to play for your nation.

12.Where did you first meet up with the rest of the team (Ghana team)? What was going through your mind?
I first met up with the team in New Jersey and I met half of them at the same time. I think I remember saying, "cool, they are here".. lol

13.Who were your roommates during your preparation for the game?
It was my fellow Chicago Fire teammate, Patrick Nyarko.

14. Out of all the teammates, which one is the funniest? Which one is the quietest?
Derek Boateng is funny. I believe I was the quiet one.
15.Is it weird playing soccer with guys you have admired?
No, on the contrary it is fun.
16. Out of all the guys who represented the Black Stars, which one star struck you the most ( meaning, which one were you like OH MY GOSH, I can't believe I'm meeting this guy)? Anthony Anan. I like the way he plays a lot .
17. What was it like playing for the coach, Goran Stevanovic? What did you two talk about—did he offer any words of encouragement to you?
He was cool, we went through the game plan during our talk.

18.What was it like, standing on the field, in the starting lineup, hearing the Ghanaian National Anthem being played?
It gave me goose bumps.


19. When did you find out that you would be starting in the game?
During the pre-game meal.


20. How did you get the # 5 jersey?
It was randomly. The #5 jersey was on my chair in the dressing room.

21.If the country of Ghana calls you up to play and represent the team again, will you go?
Without a single doubt , YES!


22. Why do you think it took so long for Ghana to invite you to represent the Black Stars?
Because there are so many talented players in Ghana.

23. At what point did you think to yourself, " is this real"?
Right when I received the call informing me that I was officially on the squad.
24. What one memory stands out in your mind regarding your experience as a Black Star?
The ride on the way to the stadium, it was a great feeling.

25. Wednesday night, after the game, what were you thinking? What thoughts were going through your mind?
I was thinking that this was a great opportunity that I had and I am grateful.

26. Immediately after the game, what did you do?
I just hung out with some friends who came to the game.
27. You play for the Chicago Fire. This season you made the most goals for the team (12), you made 76 shots, and 40 shots on goal. Meanwhile, another Ghanaian, your teammate Patrick Nyarko, made the most assists for the team (9). The most goals made during this MLS soccer season was approximately 17. How does it feel knowing that you are one of the leading scorers in the country?
Just one word....awesome.

28. Do you think Ghana will recruit you to play for their Olympic team in the future?
I will be keeping my fingers crossed. Whenever Ghana needs me to play on their Olympic team or represent the Black Stars in any manner, I will be willing and ready.

29. What are the top 2 things you miss about Ghana?
My family and the food

30. What's the one thing about professional soccer, MLS, that most people do not know?
That we are really cool people.


31.Many of the Ghana Black Stars play for teams overseas in Europe. Would you ever play soccer overseas, in Europe/Middle East, if you were given the opportunity?
When that opportunity comes my way...yes

32. What advice do you have for Ghanaian kids who want to follow in your footsteps and play professional soccer?
Follow your dream, it will come true.


Random Facts About Dominic:
Favorite Ghanaian food:Banku
Favorite American Food:Pizza
If you were not playing soccer, what would you be doing, professionally: Something related to soccer.. Coaching I guess.
Left handed or right handed: Right handed
Can you play any instruments: No

What food can you cook well: Rice

What are your hobbies: Reading, playing ping pong, and watching movies.
Do you sing in the shower: No

Apart from soccer, what other talent do you have): Rap..maybe.. lol
Favorite Author: John Grisham
Last John Grisham book read: The Litigator

How many Grisham books have you read : All. I have read every single one of his books.
If you go the opportunity to act in a John Grisham movie, would you do it? Yes sir
Favorite color: Blue

If you could meet anyone in the world, who would it be : President Obama
Last time you cried and why: I don't remember

Last time you visited the University of Ghana: last year December
Last time you visited VCU: Fours years ago

Last time you laughed uncontrollably: Today. These random questions are entertaining.
Favorite song: T.I ...Dead and Gone

Favorite TV show: Fringe

Two words that describe you: Fun and straight-forward
Name one thing most people don't know about you: That I read a lot
When you have a day off, what do you do to relax in Chicago: Chill on my couch
(Photo Credit: Chicago Fire Website)

Republication is not authorized without permission of author.