Will Brazil be ready for World Cup 2014?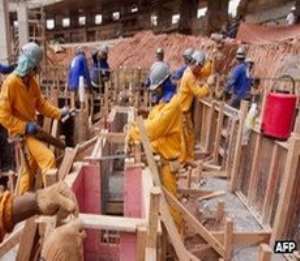 Stadium construction underway
There are little over than 800 days remaining until the 2014 World Cup kicks off in Brazil and the country is far from being ready to host the tournament.
Stadium construction is well behind schedule, while urban transport improvements have been all but scrapped by the government, who have opted instead to privatise three of the country's main airports in a late bid to improve travel conditions for visiting fans.
Furthermore, there is another major construction job facing huge delays, and unlike the stadium building, there is no guarantee that it will ever be finished. I am talking about the Brazilian national team, as since the appointment of Mano Menezes as coach in the aftermath of the 2010 World Cup in South Africa, the famous team have become a mere shadow of their former selves.
Their style of football has turned dull and listless, and without any midfield invention they have been forced to rely solely on counter attacks. Results have not been awful, but they have been pitting themselves against much lesser opposition and have consistently failed to impress.
Tuesday's friendly in St Gallen against Bosnia was a perfect example, as apart from a strong opening fifteen minutes, Brazil were largely disappointing but still managed to win 2-1. Had it not been for an unfortunate Sasa Papac own goal and some dodgy finishing from Bosnia's forwards, Brazil could just as easily have lost the match.
When you look at some of the names in the Brazil squad -Thiago Silva, Daniel Alves, Marcelo, Neymar, Sandro - it is clear that their problem is not a lack of quality players, but the lack of an effective system in which to utilise them.
Menezes is a big fan of the 4-2-1-3 formation, with two strong, athletic players in the defensive midfield area with a lone playmaker operating ahead of them. This is a system that works quite well in the Brazilian domestic game, as opposition defences tend to stay quite deep, allowing the playmaker to have plenty of room to run the game and initiate attacks. However in the international game Menezes' style is far less effective, and I believe there is a simple explanation for that.
A quick look back through the last 30 years in Brazilian football shows that every great Brazil side played with more than one creative player in the midfield. The 2002 team had Rivaldo and Ronaldinho pulling the strings behind Ronaldo up front, while the 1994 World Cup winning side played with two wide playmakers (Mazinho and Zinho) behind a front two. Even in 1998, Rivaldo was the main creator, but crucially he was supported by the very talented Leonardo. If we look even further back to that fantastic 1982 side, the midfield was made up of ZIco, Socrates, Falcao and Toninho Cerezo, probably the most creative midfield of all time.
In 2010, Menezes' predecessor Dunga took Brazil to the World Cup with Kaka as the number ten behind the three forwards, with midfield bruisers Felipe Melo and Gilberto Silva protecting the defence. Kaka was effectively marked out of the tournament, and despite the best efforts from Elano on the right wing, Brazil were bereft of creativity and they developed their reliance on counter-attacking football.
Last year at the Copa America, Mano Menezes put his faith into Santos' midfield wunderkind Paulo Henrique Ganso, placing him into a similar position as Kaka.
Defences marked him tightly and the 23 year old was left isolated and without any support, once again forcing Brazil to play on the counter-attack.
In their group match against Paraguay however, Menezes decided to alter his midfield by bringing in attacking midfielder Jadson, now of Sao Paulo, to play alongside Ganso. The improvement was palpable, and with two creative midfielders Brazil played their best football of the tournament.
There is certainly no doubting the talent and potential of Paulo Henrique Ganso, he is a studious playmaker with superb vision, delicate close control and perhaps most importantly, he links up wonderfully with left winger extraordinaire Neymar. With his skill-set, he is destined to be Brazil's number ten when 2014 comes around, but without someone to provide him with creative support, he is much easier to keep quiet. He needs a Leonardo.
Considering Brazil's vast pool of talented midfielders, finding a creative foil for Ganso should not be a terribly hard task, but Menezes has a thing for athletic, 'odd-job men' midfielders like Elias, Fernandinho, Ramires and Luis Gustavo, none of whom has a particularly creative spark.
However there is one man in the national fold who is tailor-made for this 'second-playmaker' role: Lazio's deadly playmaker Hernanes. Ever since his move from Sao Paulo in 2010, Hernanes has proven himself to be one of Europe's most devastating midfielders and he is just the kind of threat that Paulo Henrique Ganso needs on his side.
Unfortunately, Mano Menezes isn't a big fan of the Lazio man, often playing him out wide whenever he is called up to the Selecao. Besides the 2011 friendly against France (where Hernanes was sent off after a frustrating match on the left wing), he has given a fairly decent account of himself, even when playing out wide. Sadly though, Hernanes on the left or right is a mere shadow of the genius that he can be in the centre of midfield.
Brazil's next friendly match comes at the end of May where they face Denmark in Germany, followed by a triple-header in the United States, as they face the USA, Mexico and Argentina in the space of ten days. After these matches, especially the grudge match against Argentina, we will surely have a much better idea of where Menezes is going with his squad.