'Dozens killed' in Tunisia protests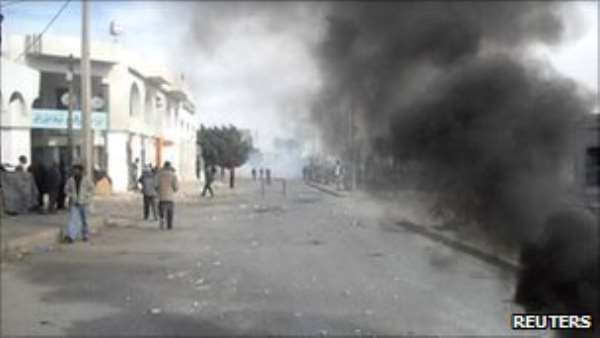 The demonstrations have been going on for more than three weeks

At least 35 people have died in violent unrest in Tunisia, according to a human rights group.
The authorities have said 21 people were killed in protests in recent days.
Union and health officials suggest that 50 died in the town of Kasserine alone. Fresh protests broke out late on Tuesday in the capital, Tunis.
The protests over unemployment are widely seen as being fuelled by political frustrations. It is the most serious unrest in Tunisia for decades.
On Monday, the government ordered all schools and universities to be indefinitely closed following the demonstrations.
The head of the Paris-based International Federation of Human Rights Leagues (IFHRL), Souhayr Belhassen, said she had a list of 35 names, but the real number could be higher.
The IFHRL believes the death toll could be as many as 50, as does a Tunisian trade unionist, citing tolls issued by medical staff in a regional hospital in Kasserine.
"The number killed has passed 50," Sadok Mahmoudi, a member of the regional branch of the Tunisian workers' union UGTT, has told the AFP news agency.
Curfew and snipers
The government had previously said that 14 people had died in violence over the past few days, but on Tuesday it said seven more people had died in unrest.
Locals in Kasserine said on Tuesday that demonstrators had been fired on from rooftops, and that a curfew was been imposed and snipers stationed on roofs.
Officials said the police had acted in self-defence when their station was attacked with petrol bombs.
Human rights campaigners say the violence has also spread from inland to several coastal towns important for Tunisia's big tourism industry.
A trade unionist in the town of Thala told the BBC that police were warning residents not to gather in groups - even of two.
He said there was a desperate shortage of food and heating oil in the town.
In Tunis, actors, musicians and other artists said security forces had violently broken up a protest on Tuesday against government violence.
Tight control
Demonstrations are rare in Tunisia, where there are tight controls aimed at preventing dissent.
The closure of schools is an indication of how seriously authorities are taking the demonstrations, which have been going on for more than three weeks, observers say.
President Zine al-Abidine Ben Ali has defended his government's record in the face of the protests, and promised to create more jobs.
He says an extremist minority has been misleading the young, blaming gangs who were carrying out "terrorist acts".
But the Tunisian government's response has been criticised by the EU and the US, which has called on the country to respect freedom of expression.
Mr Ben Ali is only Tunisia's second president since the country gained independence from France in 1956.
He came to power in 1987 and was last re-elected to a five-year term in 2009.