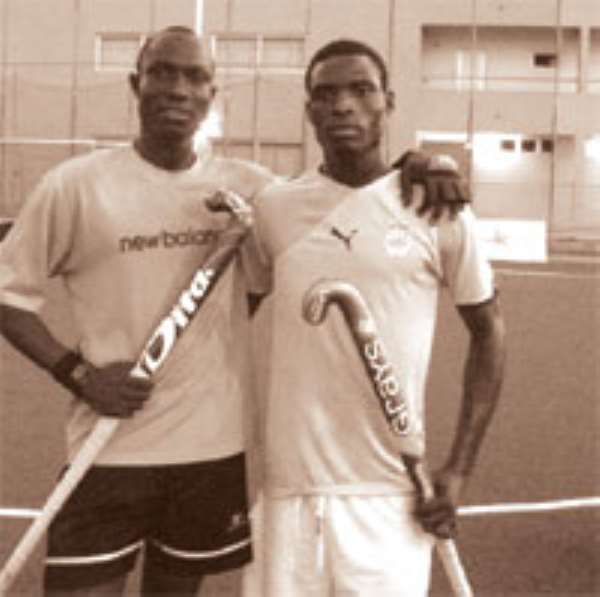 Joseph Blankson(L) Theophilus Annan -Trustees
A trip to the training session of Trustees of SSNIT has revealed that the team is peaking in performance, as the date for the competition draws near. After going through their usual aerobics, head coach Edmund Aryetey spent quality time with his charges, rehearsing on the penalty corner pushes, which saw the attackers score some brilliant goals.
In like manner, the stoppers, comprising Theophilus Annan (Protocol) and Joseph Blankson among others proved equal to the task, to the admiration of team manager Samuel Ofosu, and the few spectators that gathered to catch a glimpse of the team.
Coach Aryeetey told this writer in an interview after their two-hour exercise that: 'We started slowly, but the team is picking up at a fast pace. I believe they will be ready for the competition, after few fine tuning exercises.'
Responding to the injury situation in camp, he revealed that: 'We thank God they are all in the best of shapes now, we encountered some few malaria cases, but that was some few weeks ago.'
He revealed that the team pitched camp at the Hockey Stadium hostel in Accra for residential camping  yesterday. The final list of 18 players for the competition was released on Friday.
Protocol, in a separate interview revealed how determined the team is to wrestle the trophy from the defending champions, Sharkia of Egypt.
'We lost narrowly to Sharkia 0-1 in Kenya, but we believe we are armed to the teeth to beat them this time, and go ahead to win the competition.'