Narh explains split with manager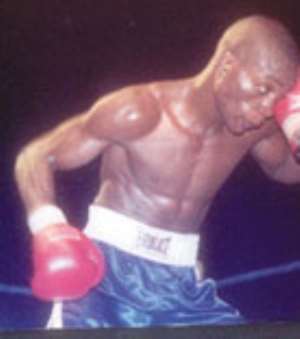 Raymond Narh, National Super Featherweight Champion has said his decision to break with his long time British manager Al Hamilton is due to cheating, non-payment of his enticement fee and other benefits, maltreatment and lack of respect for him by the manager.
Speaking to GNA Sports, Narh said "I have tolerated the misdeeds of Hamilton for so long and it's time to quit with him in order to have my peace".
He said his manager never gives him any monthly allowance and does nothing to ensure his welfare adding that, he has been doing everything by himself and only gets peanuts from him, "once in a blue moon".
Explaining further, Narh said in one of his fights in London, Mr. Hamilton deducted 20 pounds from his appearance fee with the reason that his opponent hit him during the fight, which Narh described as outrageous.
The national champion added that Mr. Hamilton only paid half of his return airfare to Ghana recently and he had to add the rest himself in order to get back to Ghana even though it is the responsibility of the manager to shoulder the full cost of his trip.
Narh also alleged that his manager has denied him the opportunity to have a try at international championship bouts with the reason that he is not yet ripe. He said, "I am ready to face any boxer in my division and I believe I can win a world title when given the chance... Why is he preventing me?"
According to Narh, he had a quarrel with Mr. Hamilton before he gave him an amount as his three-month pay recently and reiterated his desire to part company with him after the December 26 fight.
The Champion said, "whether the fight comes on or not there is no way I would continue with my manager despite the agreement with him".
Commenting on his impending fight with Malik Jabir, he said ,"I am ever prepared to take on Malik anywhere and any time and I am going to teach him a boxing lesson".
Narh predicted a knock out in the fourth round adding that it was time he put Malik to sleep forever.