Ghana welcomes goal-line technology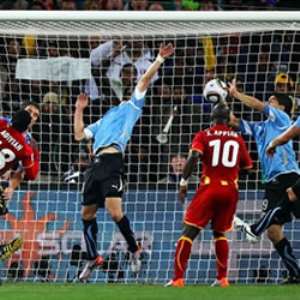 Fifa's decision to consider changing football's rules after a goal-line handball denied the Black Stars a place in the World Cup semifinals has been welcome by the Ghana Football Association.
President of the Ghana Football Association, Kwesi Nyantakyi says Ghana would back the decision as goal-line technology is now back on the agenda after Fifa revealed this World Cup is set to be the last tournament under the existing refereeing system.
A goal-line handball by Uruguay striker Luis Suarez denied Ghana a place in the World Cup semifinals during their quarter-final clash.
"We have suffered unfairly and we would back the latest decision," Nyantakyi said last night in Accra.
"It's sad because decisions over goals during a game can never be restored later due to a review. The opportunity is lost, that's what the laws says."
"Other sides have also been affected by goals disallowed due to the referees' limitations of being human. I guess England would also support us since they also suffered from such a situation."
Suarez was shown a red card but his action provoked condemnation as it kept his side in the match. Ghana missed the ensuing penalty with the last kick and Uruguay won in a shootout.
"By awarding a penalty, it reduces the opportunity of the ball being a goal. It's a matter that needs to be reviewed or it will just be a lip service which makes the fair-play slogan loses its importance.
FIFA-imposed a one-match ban for Suarez but many see it as inadequate as the striker would be eligible for the third-place play-off against Germany.
"The very foundations of fairness have been abused. There's lots of unfairness. No man must benefit from his own wrong doing. It's not possible in law," the GFA President said.