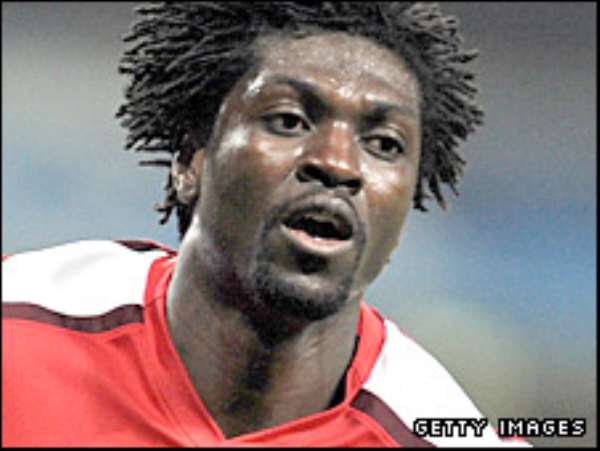 Adebayor is Africa's most-expensive Striker Emmanuel Adebayor has taken over from Ghana's Michael Essien as Africa's most expensive player after Manchester City splashed out to sign the Togolese.
 
The 25-year-old became Africa's most prized footballer after signing a five-year contract with the Manchester-based side
Adebayor takes over from Essien, who was signed by Chelsea from Lyon for £24.4m in 2005, as the continent's most expensive.
City splashed out £25m on Saturday after the Togo international passed his medical at the Eastlands.
Adebayor is also the reigning Africa Footballer of the Year. 
Severalhundred City fans were at the stadium on Saturday evening to welcome Adebayor.
"Itmade me feel really welcome and special and I can't wait to play for City's fans and show them what I can do," said Adebayor, who, as at   Arsenal http://www.tribalfootball.com/category/clubs/arsenal ,will wear the number 25 shirt.
"I was born to play football and that is what I want to do. I have come here to make history for this club and those supporters.
"It is what the chairman and the manager told me that they want too and I can't wait to get started."
City boss Mark Hughes was delighted with his capture.