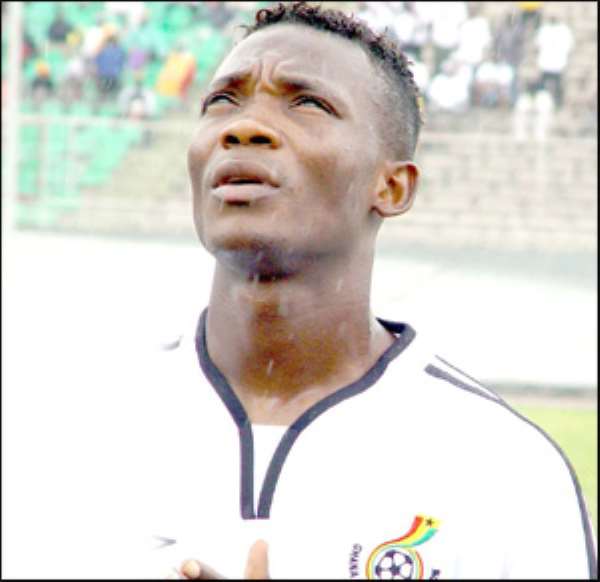 John Paintsil A TOTAL BLACKOUT nearly halted proceedings at the Tamale Sports Stadium during a friendly football encounter between the Black Stars of Ghana and the Cranes of Uganda over the weekend.
The power outage, which was believed to have been caused by fluctuations in the current level and a fault from the main transmission lines, lasted more than 20 minutes.
It however coincided with the referees whistle for the end of the first half, a situation that deprived the reserve bench of both teams the opportunity to warm up.  
The lights-out was a replica of what happened at the Essipong Stadium in Sekondi during the CAN 2008 group matches.
The Black Stars, during proceedings, established dominance over their opponents, beating them 2-1 at the fully-packed 21,000-capacity stadium.
In the first 10 minutes of the game, the host team was outplayed, with the visiting side exhibiting tactical and professionalism on the field of play and attracting loud cheers from the crowd.
Several attempts including a powerful header from Jonathan Quartey thereafter failed to clinch an opener for the Black Stars who became more determined to win the day.
The visitors also came in strongly but were denied the opener with determined goalkeeper George Owu making brilliant saves.
Joe Tex Frimpong tried to score in the 21st minute but the timely save of goalkeeper Mossa Simon saved the cranes from conceding any goal.
The stadium, in the 35th minute, was thrown into a jubilant mood when Papa Ako's cross from the right flank got goalkeeper Simon fumbling and the Stars registered the first goal of the match.
Thereafter, goalkeeper Simon frustrated all attempts by the Stars to increase their tally, grabbed all balls that came his way.
More energy was injected into the Black Stars play during the second half when Haminu Dramani, Prince Tagoe and Samuel Inkoom were introduced into the game.
This lifted up the pace and tactical ability of the stars, attracting thunderous cheers from the fans at the stadium.  
An Inkoom-Dramani combination resulted in the second goal for Ghana in the 75th minute when Yussif Chibsa made use of the blend and registered his name on the score sheet.
The Ugandans got the consolation goal in the 88th minute through a header from Sunkuma Geoffrey.  
John Painstil captained the Black Stars.
From Stephen Zoure, Tamale