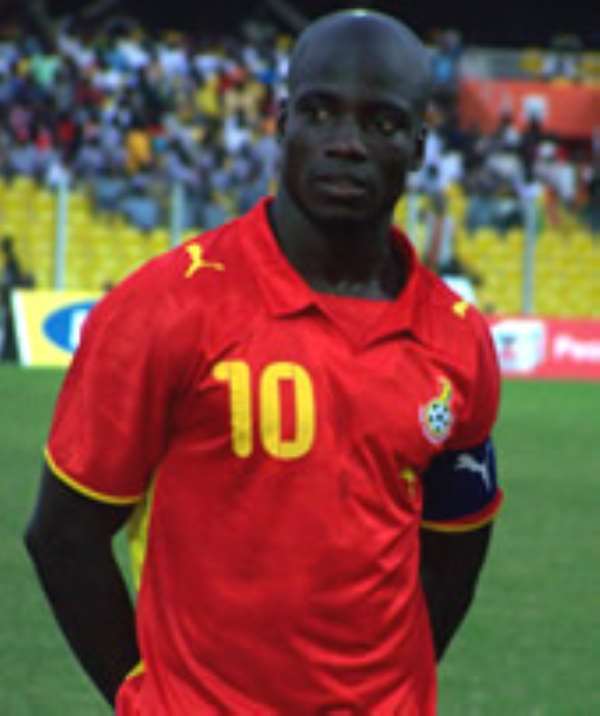 Ghana captain Stephen Appiah has pulled out of the Black Stars for the crucial World Cup qualifier against Mali next month after a family crisis in Italy.
The inspirational skipper sought clearance from coach Milovan Rajevac and the Black Stars management to excuse him for the match in Bamako following the personal problem.
However, the midfielder has assured the country that he should be ready for the clash against Sudan in Omdurman on June 20 if he is needed.
"I spoke to the GFA and the management team and they were very understanding," Appiah said on his personal website www.stepapp.com
''Once I have resolved this issue I am hoping to be in Ghana around the middle of June and if the management team are happy for me to return for the Sudan game then I will happily do so.
"However, I have asked them to exclude me from both games because it will be unfair on the other players if I just turn up for one game and not the other.
"I will like to say thanks to the GFA, Black Stars Coach and management team for understanding my situation and giving me permission to exclude myself.
"I will also like to thank them for having faith in me and I want to assure them that I will give my best whenever they call on me.
"I can assure fans that all things being equal and if called upon in the future I will always be available to play for Ghana," Appiah concluded
Appiah, who was named in the 32-man squad, was due to join his colleagues on 27 May but the unexplained personal problem has resulted in joining his family in Turin from his Brescia training base in Italy.
Appiah expects to be in Ghana by the end of June helping with some of the Stepapp Foundation work in Accra especially in the setting up of an ante natal clinic where he grew up in Chorkor.
Previously ante natal services were held under a tree, but with funding from Stephen, a building has been put up for that purpose.