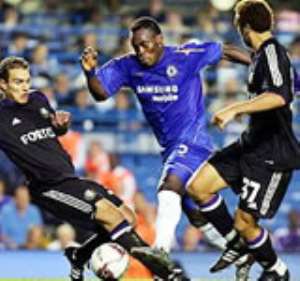 Michael Essien has suggested the knee injury he picked up on international duty stemmed from a pre-season game with Chelsea.
Essien has returned from injury seemingly at the peak of his powers and looks well on course to end the season in fine fettle.
It is a far cry from last September when Essien was struck down with a knee ligament injury playing for his native Ghana.
Essien claims the injury came out of the blue, as he says he was merely blocking a cross when he fell to the floor in agony.
The midfielder has suggested he was carrying a problem coming into the Ghana game, but was unaware of the true extent of the issue.
"I had a knock in one of the games in Russia and I carried on playing and finished the game," Essien said.
"The next day my knee was really swollen so when we came back from the pre-season, I went to do a scan but it didn't show a problem.
"I did work in the gym and played the first two games of the season for Chelsea. Then when we were with Ghana it happened.
"I was going to block a ball and then I found myself lying down and I knew there was something wrong. I was going to block a cross, just normal running."
Essien has made a stunning return to action and is looking forward to the remainder of the season with relish.
"We are still in the big competitions so we are looking forward to the rest of the games ahead and to keep fighting. We have to keep going and see what happens," he added.
Essien scored a crucial goal against Juventus in the Champions League earlier in March and he raced to physio Thierry Laurent to show his appreciation for the time he spent with him on his rehabilitation.
"It was great to be back and scoring," said Essien.
"It had been a very long injury and in the end I managed to come back.
"The physios and doctors did a great job on me and the first thing that came into my mind when I scored was to go to Thierry as he has been with me for the past six months.
"The rest of the physios have all done well but he was the one who was with me every day so I tried to go to hug him and say thank you."
Lee Sawyer is a player looking to break into the Chelsea side alongside Essien and he has been sent out on loan to Wycombe in a bid to boost his experience.
For more Ghana football news visit www.ghanasoccernet.com