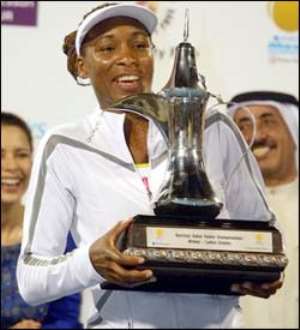 Venus Williams poses with the trophy VENUS Williams defeated Virginie Razzano 6-4, 6-2 in the final of the Barclays Dubai Tennis Championships to record her 40th WTA Tour singles title.
The most intriguing match of the $2,000,000 tournament came in the semifinals as the Williams sisters stepped onto Centre Court for the 19th chapter of their rivalry. Serena Williams, ranked and seeded No.1 this week, had won nine of their prior 18 encounters; Venus, ranked and seeded Number 6 this week, had won the other nine.
They split the first two sets and eventually settled into an on-serve third set, with the tie-break deciding it all - and it was Venus who closed it out, 6-1, 2-6 7-6(3), to take a 10-9 lead in the family head-to-head.
On the bottom half of the draw, Virginie Razzano was putting together the best week of her career. Ranked Number 58 and unseeded, she upset two of the week's highest seeds - Number 2 seed Dinara Safina and No.5 seed Vera Zvonareva - in the second round and quarters, en route to the biggest final of her career. And it's not like she hadn't had success against Venus before: she had lost their first two meetings, but in their third and most recent she rallied from triple match point down in a second set tie-break and eventually won in the final of Tokyo in 2007.
Lightning would not strike twice, however. The first set of the final was close, as the two stayed on serve until the last game, when Williams converted on her first break point of the match to take it, 6-4. She carried that momentum into the second set and raced to a 5-0 lead, then regrouped after a late surge from Razzano and some of her own problems on the second serve to prevail, 6-4, 6-2.
"I have to congratulate Virginie on such a great week - she beat so many Top 10 players and just played so well today. She really had a better week than I did," Williams said. "But it was a wonderful week for me too. I was able to win against the best player in the world in the semifinals, and I'm happy to have played such a good player in the final. I think I got a little lucky today."
Williams emerged with the 40th singles title of her Tour career, the 12th player in Tour history - and first active player - to hit the big 4-0. The icing on the cake is that for the first time since August 2003, she will be ranked in the world's Top 5 - it's a long time coming, considering she has won Wimbledon three times in the five and a half years since. She has been Number 1 in the world before, though.