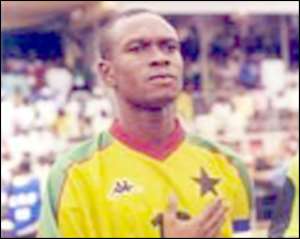 C.K. Akunnor Sekondi Eleven Wise has surprised many in Ghana football circles by appointing former Black Stars skipper C.K. Akunnor as the new head coach of the club.
Former player, Nii Odartey Lamptey, has also been appointed the assistant coach of the club.
Akunnor, who has no previous top-line coaching experience, has been given a two-year contract, as has Odartey Lamptey.
The duo has been tasked to improve the fortunes of the club with a top-four finish as the ultimate.
Speaking at a ceremony in Accra yesterday, Jamel Maraby, Chief Executive Officer of Wise, reiterated the need to improve the fortunes of the team, adding that players who reached a certain level in football had to be given such opportunity.
"We have taken a risk but hoping to succeed in the tough league. The supporters are with us and we are hoping to get the results."
He explained that it had cost the club a lot of money to sign these coaches; more than what Hearts paid for their Serbian coach Kosta Papic.
On his part, C.K. Akunnor acknowledged that the task was not going to be easy but added that with the help of Odartey Lamptey he would deliver.
"Having several certificates will not make you a good coach, but rather attitude and commitment attached to the job. I learnt a lot whilst in Germany."
"We are ready for the task," Odartey Lamptey said. "Let us play our first match and you will see the result."
The Sekondi club which returned to top flight football this season after being in the wilderness for the last decade, sacked their technical team headed by Nana Agyemang last week.
By Charles Nixon Yeboah & Kate West