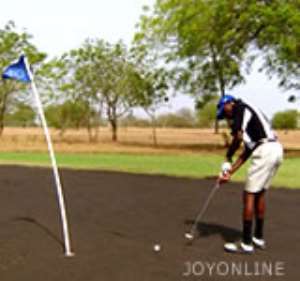 This year's Tema Country Golf Club Captain's Prize Open Championship tees off at Tema on Saturday, February 7.
Mr Ebenezer Adablanu, General Manager of the Club who announced this at Tema on Monday, said about 150 professional and amateur golfers were expected to participate in the one-day 18-Hole Medal competition.
He said the competition being sponsored by William Asiedu Yeboah, Captain of the Club whose tenure of office ends on February 7, would be the last competition to be sponsored by the Captain.
Mr Adablanu said golfers expected to participate in the annual event were, I.N.K. Asempa, Joe Daglo and Kweku Okyere, all of Tema.
Contestants from Achimota Golf Club, would include Bob Evans, Mike Aggrey, Mike Ezan, Michael Ben-George, Jonathan Ane and Charles Tabi.
Mr Kweku Okyere, in-coming Captain of the club, would be sworn-in after the competition.