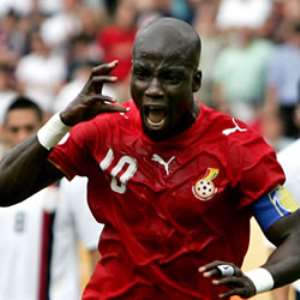 Ghana will try to win its first friendly game of the year when the Black Stars face Tunisia in Wednesday's match in Accra.
It's been a year since Ghana won a friendly game with their last victory coming at home, the Ohene Djan Stadium in November 2007 when the Black Stars beat Benin 4-2 to win a four-nation tournament.
The once free-scoring Ghanaians have been held to a draw (against Tanzania) and suffered three defeats (to Mexico, Australia and South Africa) in four friendly fixtures played this year as coach Milovan Rajevac's side has struggled to find ways of coming out victorious in such games.
Since assuming the reigns, Rajevac's side have played two games, lost one and drawn the other but the Serbian is determined to restore the Black Stars back on winning ways.
Even without at least four regulars in Michael Essien, Sulley Muntari, Laryea Kingston and John Mensah, Milovan Rajevac says a win for Ghana in today's friendly is important even though he says he will be using the game to try new players ahead of the resumption of 2010 World Cup qualifiers in March.
"The objective is to see as many players as possible before the world cup qualifiers resume in March and this match provides a good opportunity to do that," he said.
"That notwithstanding it is important that we take it seriously and get a win because we need one."
Despite clamouring for a win, Rajevac is aware of the strengths of the Carthage Eagles and rates the Tunisians as a good side that will adequately test them.
"Tunisia is one of the top sides on the continent, been to many World Cups and have challenged for honours over a long period. They will be a good team to measure how well we are doing."
Tunisia will become the first side to visit Ghana this year. Ghana last hosted teams in November 2007 when the United Arab Emirates, Togo and Benin came to Accra for a mini-tournament.
Since then, nearly all of Ghana's friendlies have been staged in Europe or outside Ghana including matches against other African teams.