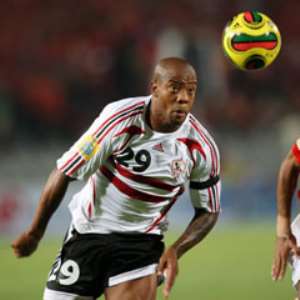 Agogo is reported to have abused fans Ghana striker Junior Agogo is facing severe sanctions from 
the Egypt Football Association (EFA) for his inappropriate gesture directed at fans during a league game.
The Zamalek forward was caught by TV cameras while gesturing impolitely towards fans of rival club Petrojet during Friday's league clash.
Despite the rude gesture, referee Mohamed Farouk didn't comment on the incident in his report.
But an official from the EFA-affiliated competitions committee said a match video could be reviewed if such a claim wasn't mentioned in the referee's report.
"Many punishments were imposed based on the recorded videos," the source, who spoke on condition of anonymity, told FilGoal.
Amr Zaki, Wigan Athletic's current top scorer, was once fined and suspended with Zamalek when the match video verified that he swore at the referee.
On the other hand, Zamalek football director Ahmed Refaat said Agogo probably won't be punished, because only the referee's report matters.
"I don't think that Agogo will be sanctioned, because Mohamed Farouk didn't witness the gesture himself," he told FilGoal.
"If so, he would have sent him off and mentioned what he did in the match report."
Refaat defended the 29-year-old, saying he didn't mean to insult the opposite team, the spectators or the referee.
Source: Filgoal
For more Ghana football news visit www.ghanasoccernet.com