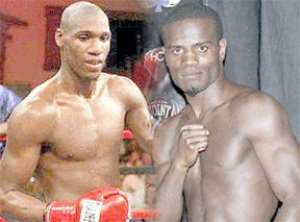 WBO welterweight champion, Paul 'The Punisher' Williams, has stepped up to face Ghana's IBF champion, Joshua 'The Heater' Clottey, for the division's unification bout.
This appears to be a dramatic twist to the much-awaited unification bout between Clottey and WBO champion, Antonio Margarito. But the camp of Clottey has inicated that the bout remains on the board to fill in when the much-touted clash with Magarito fails to materialise.
Indications from the camp of Clottey are that Top Rank Promoter, Bob Arum, is currently working out another big unification between Margarito and 'Sugar' Shane Mosley to come off possibly in January next year.
Though Clottey would have temporarily lost the opportunity to avenge his December 2006 defeat to Margarito, he at least have another big deal in Williams. Graphic Sports sources reveal that Clottey could be wearing a broader smile to the bank as he is expected to bag in excess of $1.2 million.
Clottey who spoke to the Graphic Sports yesterday rather chose to keep details of the negotiation of the fight close to his chest. "All I want to do is to fight before the end of this year. I have reached the highest height which is to win a world title. So now what I have to do is to make some good money to pay off for all my years of toil," he said.
He told this reporter that in as much as he has a lot of respect for Paul Williams, he will deliver when they clash. "Everybody knows how I have always done it. I will soon be leaving for my New York base and after final negotiations I will enter intensive training to get myself ready. I am not saying it will come cheap but I will leave the ring with victory," he said.
Williams, a southpaw who fights from Augusta, Georgia, USA, has a record of 35 wins, 26 of which came by knockouts, and only one loss.
In July last year, Williams snatched the WBO welterweight title from Margarito only to lose it to Carlos Quintana via a unanimous decision in February this year.
The 27-year-old American regained his status, after a first round stoppage of Quintana in a rematch in June this year. And in a 10-round contest last month he inflicted yet another first round knockout on Andy Kolle.
Aside being on top in the IBF rankings, Clottey is the third contender on the WBO rankings where Williams is number one.
Story by Nathaniel Attoh