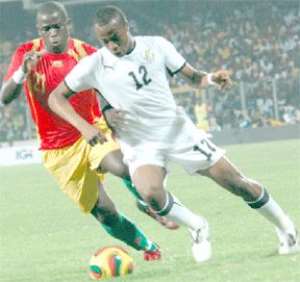 The national U-20 side, the Black Satellites, are on an audacious mission to The Gambian capital of Banjul this weekend to claw back what has already been declared an illusive ticket to Rwanda.
The Satellites' attempt to seek qualification on a difficult terrain after a narrow 2-1 victory over The Gambia at the Ohene Djan Stadium makes the situation murky for the Ghanaians who since 2001 have never qualified for any major tournament in that age bracket.
But the Chairman of the Black Satellites Management Committee, Jordan Anagbla, is upbeat about the chances of the team and told the Graphic Sports at the weekend that the Satellites would qualify no matter the odds that awaits them in Banjul.
"Mark my words, we are both spirituallly and physically prepared for the battle and there is no way the Gambians are going to prevent us from going to Rwanda," he said.
Anagbla has been involved in the affairs of the Satellites, which have produced some great talents on the Ghanaian soccer landscape, but failed to qualify for the African Youth Championship. However, it seems he is not ready to put up with failure again.
"The Gambians had their chance to beat us in Accra and make qualification easier in this second leg but failed to take their chances and so its our turn to make amends and I can tell you that we won't fail this time again", he said.
The Satellites chief is inspired by the expected arrival of Dede Ayew who missed the first leg game a fortnight ago due to club commitments but has now been released by his club. Ayew, according Anagbla was expected in town last Sunday night to join his teammates currently in camp.
Ayew is one of the options that has come handy to Coach Sellas Tetteh and Anagbla, said the team would also undergo some changes as some other players were set to join the team to offer more options to the handlers.
For the Satellite team, he said, the most refreshing thing to learn ahead of the match was that Moroccan match officials would be in charge.
"The Moroccan officials can be trusted when it comes to officiating compared to some refereees from our neighbouring West African countries," he said.
He said with the level of morale in the camp the Satellites would carry the fight with determination to ensure that Rwanda 2009 becomes a reality.
Indeed since 2003 when the Gambia U-17 team made history when they won the African Championship, Gambian youth soccer has been growing steadily and their show last two weeks at the Ohene Djan when they made Ghanaian fans to sit on knive-edge gives credence to their status as a powerhouse in African Youth football.
And playing before a partisan crowd, the likes of Ransford Osei, Rabiu Mohammed, Dede Ayew, Saddick Adams and others will have to maintain their nerves to withstand the odds.
Story by Andy Quao