Queens Won't Pull Out - Crentsil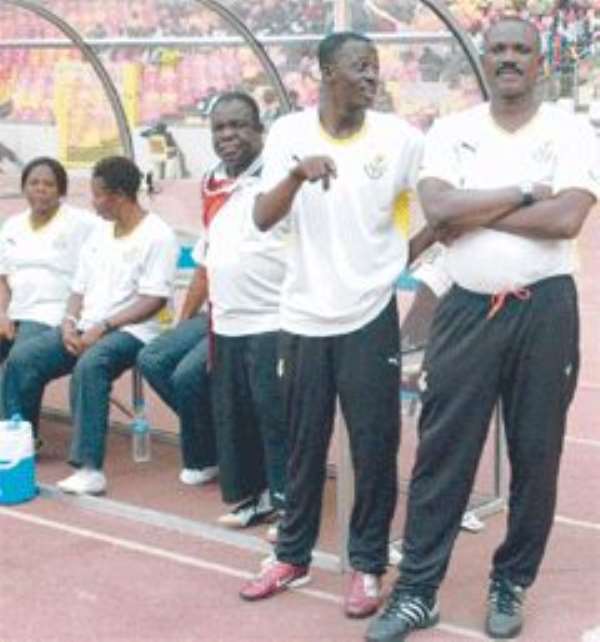 The Chairman of the Black Queens Management Committee, says Ghana will not pull out of the scheduled play-off against Brazil for the last ticket to this year's Olympic Games.
Mr Fred Crentsil maintains pulling out in the April 19 date with Brazil in Beijing will incur the wrath of football's world governing body, FIFA, and earn Ghana a possible ban from international football.

Reacting to calls by some section of football fans that Ghana should politely withdraw and give Brazil, runners-up of the 2007 Women's World Cup an automatic qualification, Crentsil said there was no justification in that call and said the Queens will show up in Beijing for that match.

In a telephone interview to react to those calls, Crentsil, who also doubles as Chairman of the Women's League Board, said there should be a reason very good enough to force the Ghana Football Association to take such a decision.

"Someone must justify why we should pull out. Just because we lost to Nigeria and Brazil are runners-up we have to run away? I think such a thought defeats the purpose of developing and promoting women's football," he said.

Queens' caretaker coach, Abdul Gamel Mumuni, also insists that despite the tall order facing Brazil, his charges will put up a brave fight.

"We have already been condemned to lose against Brazil. Considering their current form and performance and the names they parade, it is indeed a herculean task, but in football, there is always going to be a David and a Goliath, but the match is played anyway," he told the Graphic Sports.

He said that the April 19 date was one of the rare chances besides competitions that the team would get to gain more exposure and experience and they intended to make the most of that opportunity.

"Had we qualified for the Olympics last Saturday, we would still have met Brazil along the way at the Olympics, so why should we run away now if an opportunity has presented itself? It's unfortunate we did not qualify straight away as we had hoped, but we have to keep hope alive and go through the entire process," he stressed.

Mr Crentsil's call had the backing of Ann Chiejine, an assistant coach of Nigeria's Super Falcons, who says pulling out will rob the Queens an opportunity to get more exposure and experience.

Chiejine, a former goalkeeper of the Falcons, said despite the odds weighing heavily against the Queens, playing against Brazil will provide tons of eye-opening experience to the young Ghanaian players who have a lot of talent.

Ghana was condemned to a play-off against the 2007 Women's World Cup runners-up Brazil when the Queens lost 0-2 to Nigeria in their final qualifier at Abuja last Saturday and many have suggested that Ghana should pull out of that match to avoid being humiliated.

Followers of women's football are suggesting that Ghana pull out of the play-off due to the fact that they may end up in an embarrassing defeat considering the fact that the Brazilians are way ahead.

At the 2007 WWC incidentally staged in China, Brazil finished as runners-up, conquering the likes of USA (semi-final) and Australia who beat Ghana at the group stages.

The Queens on the other hand had their worst outing at that competition, losing all their three group matches heavily.