Manuel Junior Agogo - Thee Funky Player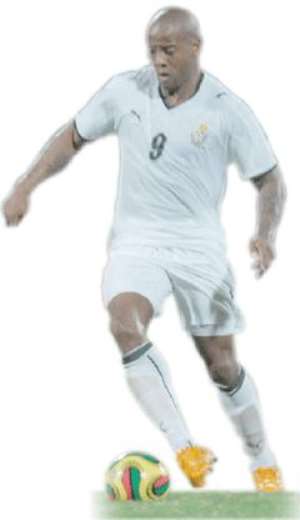 After playing barely 15 impressive matches with the national team and scoring seven important goals, Manuel Junior Agogo has established himself as one of the hottest players of the Black Stars.
His dexterity and hard work on the field have won him the admiration of both the young and old.
After three weeks of skillfull football displayed at the just-ended Africa Cup of Nations, Agogo, as he is tenderly called by his fans, has become a household name.

It was not surprising that when the well-built striker was invited to his former school, the Ridge Church School in Accra, to interact with the schoolchildren, all activities came to a standstill.

The Junior Graphic caught up with the Nottingham Forest player who shared some of the fondest moments of his childhood in Ghana and his career with this reporter.

Before the interview could even roll, Agogo was quick to ask to be spared the details of his schooling years in Ghana because he was not good at keeping dates.

However, one thing he was certain of was the fact that he started his education at the Ridge Church School and could readily point to his classroom.

Unfortunately, he did not complete his primary education there as he had to travel overseas with his parents. However, he came back to Ghana and this time attended the St Augustine's College in Cape Coast for his secondary education.
At St Augustine's, Agogo said he was not a member of the school team but rather represented his school in dancing competitions.
 
With this past record, it became clear why Agogo displayed some dancing skills anytime he scored for Ghana at the Africa Cup of nations tournament, particularly joining his team-mates to perform the famous kangaroo dance.
He is without doubt one of the funkiest players who has won the hearts of football lovers in the country.
Agogo again, left St Augustine's college while in Form Three to join his mum, Jeannie Everet, who was then working in the United Kingdom as a hotel executive.

Born in Accra on August 1, 1979, the Nottingham Forest striker grew up in Accra. Ironically, football was not one of his favourite pastimes as a boy since his father, Mr Emmanuel Agogo, a businessman, was very strict with his children and ensured that they were always glued to their books.

"All you needed to do to impress him was to sit behind your books and study. You dare not pick a ball and go running about in the house," he said, laughing heartily.

Asked how he switched to professional football despite his father's strict rules, the striker explained that his interest in the game developed while he was in the UK with his mum during which he joined his siblings and friends to play football all day.

It was during that period in the UK that he discovered his talent and the desire to venture into professional football.
He began his career at Sheffield Wednesday in 1995, but only made two league appearances for the Owls, as the team was known in England. During the 1999/2000 season he had loan spells at the following clubs: Oldham Athletic, Chester City, Chesterfield and Lincoln City.

While at Chester his goal against Cheltenham Town in October 1999, was voted the second best goal ever scored at the Deva Stadium.

In May 2006, Agogo was called up for Ghana in a friendly against the French league side, OGC Nice. Unfortunately, he did not make the final Ghanaian World Cup squad. He was recalled to the Ghana squad for the East Asia tour in which he faced Japan and South Korea.

On November 14, 2006, Agogo scored his first goal for Ghana, with the equalising goal in an international friendly match against Australia. He also scored the third goal in Ghana's 4-1 victory over Nigeria, played in London.

His performances at these games won him a place in the Ghana squad for the 2008 Africa Cup of Nations. In all, he scored three goals of Ghana's 11 in the Africa Cup of Nations, thus becoming the best scorer of his side along with Sulley Muntari.

Interestingly, out of the 12 appearances for Ghana he has seven eye-catching goals to his credit.
Agogo is one of the 11 children of his father. His parents hail from Dzodze in the Volta Region. He is also the nephew of ex-President Jerry John Rawlings.

Though he did not grow up in Ghana, he speaks fluent Ga which he said he learnt while hanging out with the boys in his "hood".
 
When asked of his plans after his football career, he said he would operate his own restaurant as he loves the hospitality industry.

Story by Hadiza Billa Quansah