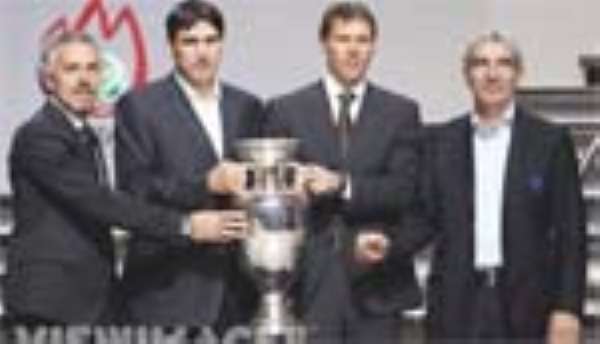 World Champions Italy has been drawn in the same group as France and Holland for the European Championship finals next summer in Austria and Switzerland.
The draw is based on European qualifying so the Italians will play France in a repeat of the 2006 World Cup final in the last Group C game.
Only the top two teams from each group go through to the knock-out stages.
Switzerland will face the Czech Republic in the opening match of the tournament on 7 June in Basle.
And reigning champions Greece will play Sweden, Spain and Russia in Group D.
France coach Raymond Domenech had complained of the seeding system before the draw and he will now have a tough task to get his team through to the quarter-finals.
Group C also features Romania who qualified ahead of Holland. They are one of three pairings of teams who have been drawn in the same group in the finals despite having played each other in qualifying.

Italy and France plus Sweden and Spain will also have to play each other again.
"We can't rejoice at being put together, but now the draw's been made we have to live with it, it's like that," said France coach Raymond Domenech.
His Italian counterpart Roberto Donadoni commented: "It wasn't easy to qualify and now this. I had a feeling it might happen."
Holland boss Marco Van Basten added: "That really is a hard one. The Romanians posed us so many problems in the qualifiers, and before that we will have Italy and France, but at least we know what we are up against."
Croatia and three-times winners Germany appear to have an easier ride in Group B, with co-hosts Austria and Poland in there as company.
But Croatia coach Slaven Bilic insisted: "I can give you 20 reasons why this is the most difficult group. Here are three: Austria are playing at home, Germany are one of the best teams in the world and Poland are here for the first time which is a good motivation."

The other hosts Switzerland have to contend with Portugal and Turkey, as well as the Czechs, in Group A.
The draw was made at a ceremony in Lucerne, Switzerland which featured former European Championship winners such as Franz Beckenbauer, Michel Platini, Marco Van Basten and Jurgen Klinsmann.
Group A: Switzerland, Czech Republic
Portugal, Turkey
Group B: Austria, Croatia, Germany, Poland
Group C: Holland, Italy, Romania, France
Group D: Greece, Sweden, Spain, Russia