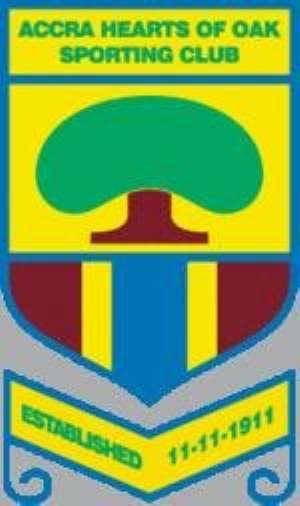 Defending league champions, Accra Hearts of Oak is indebted to individuals, institutions and organisations to the tune of GH¢1.7 million (¢17 billion). Frank Nwokolo Nelson, Vice-Chairman of Interim Management Committee of the Club who revealed this on Friday during the launch of the club's blueprint for the season, said the figure was inclusive of debts accrued over the past years.
Even though he reckoned the fact that no organisation can boast of being self sufficient, he said his outfit is putting structures in place to offset the outstanding bills.
Mr Nelson added that the club's new blueprint makes provision to offset the bills and with proper and effective implementation, they should be in a good position to clear the bills.
Vincent Sowah Odotei, a member of the Management Committee explained that the new blueprint would be the operational leg of the IMC in their effort at positioning the Club in a state that would make it easy to attract sponsorship from the corporate world.
The new brand, he said will help make the club commercially viable like others in North Africa, Europe and the developed world.
He highlighted that one of the main concerns of the new brand of Hearts would be basically on player welfare.
This, he said is to boost the morale of players at all times.
"Players would henceforth be beneficiaries of the National Health Insurance Scheme and be entitled to pension benefits as well."
Mr Odotei also mentioned communication as one of the major first steps in the organisational development plan, adding that the club's website would soon be activated.
This new brand, according to the IMC member is to ensure that the club is run professionally in line with the modern developments of the sport.
Meanwhile German Kit manufacturers, Jako AG has presented football kits and other sports related gear to Hearts.
Opoku Agyei, Legal Counsel of the kit producing company said the presentation forms part of the one year sponsorship agreement with the defending league champions.
Ashford Tettey Oku, Administrative Officer of Hearts thanked Jako AG for the gesture and advised the supporters of the club to patronize the replicas for the club to boost its financial standing.