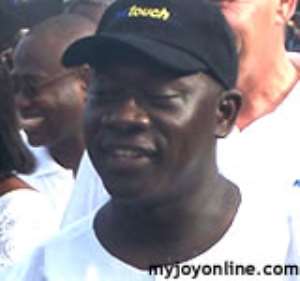 Shangai Construction Company of China on Friday handed over the completed Essipong Sports Stadium Complex near Sekondi to the Western Regional Coordinating Council (RCC).

Mr Zhang, the Deputy Project Manager of the Company handed over the keys to the stadium to Mr Samuel Tawiah, a representative of Multigroup Consultants, the consultants of the project, who in turn presented them to Mr Anthony Evans Amoah, the Regional Minister.

The Deputy Project Manager thanked government for cooperating with the company to complete the 20,008 capacity stadium within the stipulated time of 20 months.

Mr Amoah said the stadium is an important national asset for which the people must make sure they make it their responsibility of protecting and maintaining.

He urged the chiefs and people of the area collaborate to ensure the security of the stadium and guide against its misuse.

Mr Osei Bonsu Amoah, Deputy Minister of Education, Science and Sports said the stadium was completed at a cost of 38.5 million dollars.

He announced that the national athletics championship would be held at the stadium next week.

The Deputy Minister gave the assurance that the Shangai Construction Company would leave behind a skeleton staff to maintain the stadium and offer 12 months maintenance training to Ghanaians to take over from them.

Mr Amoah said the Ministry would also train local people on the maintenance of the stadium.

He said the gate fees for the Ghana 2008 has not been finalised and that discussions were still on-going to decide how much to peg the gate fees to enable a lot of people to watch the matches live.

Mr Philip Kwesi Nkrumah, Sekondi-Takoradi Metropolitan Chief Executive said the National Sports Council has a critical role to play in the maintenance of the stadium and said some facilities like the hotels and the restaurants would be sub-let to individuals and companies.