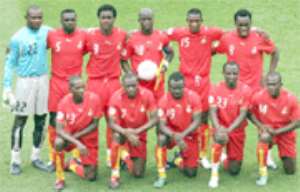 Dear Editor, It appears that our memories are short. About a year ago, specifically on June 12, 2006, the Black Stars played their first match in the FIFA World Cup tournament in Germany against the Italians.
I would have thought that the Graphic Sports would have had some write-up to commemorate the occasion.
This was a match which Ghanaians watched with bated breath, bearing in mind the dismal performance of the national team at the CAN 2006 competition, held in Egypt, earlier in the year.
Though Ghana lost 0-2 to Italy, which emerged the eventual winners of the competition, we were never disgraced.
Indeed, the opening match in this seemingly tough group gave an indication of what Ghana, all things being equal, were capable of.
It was no wonder, therefore, that Ghana proceeded to beat the highly-rated and star-studded Czech Republic 2-0 and against, whom we could have registered a cricket score.
Our performance in the tournament made Ghana proud, and made such countries as Switzerland, Austria, South Korea, Japan, Brazil and Nigeria to engage us in friendlies after the World Cup. Congratulations to the Black Stars who thus gave us a fitting present on the eve of our 50th independence anniversary.
The team also gave meaning to the prophecy or prediction made by the renowned Roger Milla of Cameroun that for excellence of African football, the world should wait until Ghana emerged on the world stage.
By the way, was it an omission or oversight on the part of the Professional League Board (PLB) or the Ghana Football Association not to name the "Spectator of the Year" at the award ceremony?
I would have wished that it gave that award to that young Ghanaian football fan, clothed in our national colours, whose face and countenance epitomised the feeling of the entire country and indeed of the whole of Africa when the Italians scored their first goal against us through Andrea Pirlo. That young Ghanian fan is truly patriotic.
Kwame Peprah,
P.O. Box MP. 50,
Mpraeso, Kwahu.