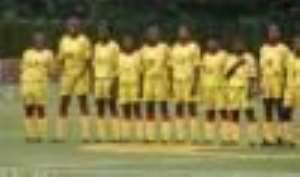 Ghana's senior women's side, the Black Queens will need to go step further in the Olympic qualifying campaign than they did in 2004 to qualify for the 2008 Beijing Games.
The Black Queens, who are seeking to make their debut in the women's competition at the Olympic Games after narrowly missing out of the 2004 Athens Games when they lost their final qualifying game will kick off the campaign to Beijing when they host DR Congo in Sunyani on Sunday.
Team coach, Isaac Paha and his backroom staff have been rounding up preparations in Sunyani for the first leg game Sunday.
Sunday's game will be the team's first competitive match since completing their tour of the United Kingdom where the Black Queens were hosted by the FA's educational partners, the University of Hull.
Africa has just a slot for the 2008 Olympic Games women's football competition as eight countries are left in the qualifying campaign.
A win for Ghana over the two-legs will qualify the Black Queens for the last four which would be an all-play-all system with one side picking the sole ticket.
Aside the single slot for Africa, the runners-up from the CONMEBOL – Brazil and second-placed from the CAF qualifiers will compete in a one-off decider for a place in the Olympic competition.