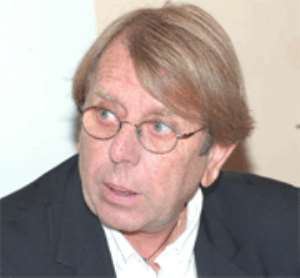 For the first time since taking charge of the Black Stars, Coach Claude Le Roy lost his cool and let loose his previously unseen soft side as he was confronted with a vexed issue that touched on his integrity.
Always on top of issues whenever he faced the media, including last Friday's press conference at the GFA House, Le Roy snapped, turned red and tried to hold his emotions, when he was quizzed on the state of a legal case in France which the coach stands accused for alleged impropriety in player transfers when he was coach of French club, RC Strasbourgh, between 1998 and 2001.
Caught off guard by the question and his voice breaking, a poignant Le Roy stated that the question has "spoiled the press conference" which had run smoothly with the coach articulating his vision for the team and displaying deep knowledge of African football and full grasp of issues thrown at him by media men.
A brief pause - an element of surprise and uneasiness - preceded his response and the coach insisted the allegations by French prosecutors were false, his hands were clean, and was confident he would be vindicated after the trial.
"I never did anything wrong (illegal player transfer) in my life as a coach," insisted Le Roy.
"When I was at Strasbourgh no such thing came up. It's false. Everything will be cleared and the truth will come out."
The country's football governing body has always backed Le Roy and last Friday the FA's second-in-command and the head of the Black Stars Management Committee, Mr Fred Pappoe, quickly jumped to the Frenchman's defence, saying the GFA has faith in the coach's integrity and would support at all times.
When the issue came up late last year, GFA President, Mr Kwesi Nyantakyi, in a BBC interview maintained that in accordance with the principle that the benefit of the doubt should always be resolved in favour of the accused person, the FA presumed Le Roy to be innocent of the charges until otherwise proven guilty.
Last September, Le Roy and former Strasbourg President, Patrick Poisy, were quizzed by French prosecutors over the allegwed deals based on a report by French daily newspaper, L'Equip.
Both men are still under investigations.