Ghana's Abedi Pele launches biography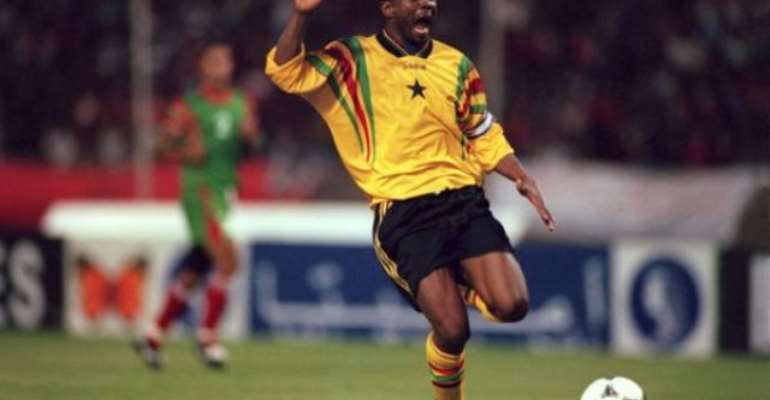 Ghanaian Vice-President Alhaji Aliu Mahama last night called on the state to involve Africa's three-time footballer of the year, Abedi Ayew Pele in the administration of soccer at the national level to help transform the sport.
He said by so doing, Ghana would reap enormous benefits from Pele who has been named FIFA Ambassador to Africa and a member of one the Confederation of African Football committees.
The Vice-President made the call in a speech read for him by Jake Obetsebi Lamptey, Minister for Governmental Affairs at the launching of the biography of Abedi Pele dubbed "Hero of African Football".
The 50-page magazine traces the history of the soccer legend from his colts' days till he joined the Black Stars at the tender age of 16, through to his foreign exploits till his resignation from the world's most popular game in 1998.
It was written by a young writer Eric Afedzi and supported by Cosby and Cosby Ghana Limited.
Alhaji Mahama expressed the hope that Pele's rich experience coupled with his international contacts would help put Ghana back among soccer elites in Africa in particular and the world at large.
"For a long time we have denied our heroes the chance to contribute to our national development and this must stop", he said. He emphasised that Pele has demonstrated that excellence can only be achieved through hard work and not through easy and dubious means.
Alhaji Asoma Banda, Chairman for the occasion and boxing legend Azumah Nelson were among those who bought the first few copies. A total of 50 million cedis was realised at the launch.
The money, which included a 12 million-cedi promotional package from Metro TV, would be used to support street children, the AIDS foundation and some selected NGOs.
Pele praised the late S. K. Manu, a sports administrator and the Sports Writers Association of Ghana for giving him scholarship during his school days.
He also mentioned a host of names who have helped him "through the struggle" including the Ghanaian press.
His wife Maha Ayew gave him a surprise gift of a portrait of the maestro holding a golden ball.
Alhaji Banda announced that he would soon form a soccer team to be named ANTRAK 11.
Among the dignitaries were, Mr Joe Aggrey, deputy minister designate for Youth and Sports and Madam Hawa Yakubu, minister of Tourism.