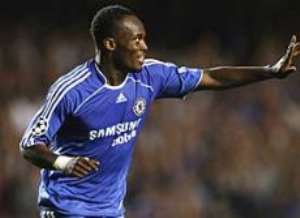 Chelsea midfielder Michael Essien believes his side can still retain the Premiership title.
The Blues have won five games on the bounce in all competitions, with the West Londoners already in the Carling Cup final later this month.
Despite being six points behind leaders Manchester United in the table, the Ghana international feels Chelsea are in their best form.
"We still believe in ourselves that we can do it," Essien told Sky Sports News.
"It's up to us to keep going, to fight hard, and will see what we can do.
"For the past four or five games, we've been playing fantastic.
"We hope things will continue like that."
Chelsea remain in the hunt for four honours this season, and the former Lyon star feels The Blues can win them all.
"We know anything can happen," he added. "We should just believe in ourselves."
In order to fulfil the achievement, Jose Mourinho's side must face another lower division club in Championship side Norwich City in the FA Cup fifth round on Saturday.
"It's going to be difficult when you play against a smaller team, they are always motivated against you," Essien said.
"We have to be strong in our head to play our best football. Hopefully, was can beat them."
The 24-year-old gave his support to beleaguered striker Andrei Shevchenko, claiming the former Milan star can still be a top striker in English football.
"He's had a very difficult time, but I think he's getting better and he's getting used to the Premiership," he said.
"We should give him some time and he will be at the top."