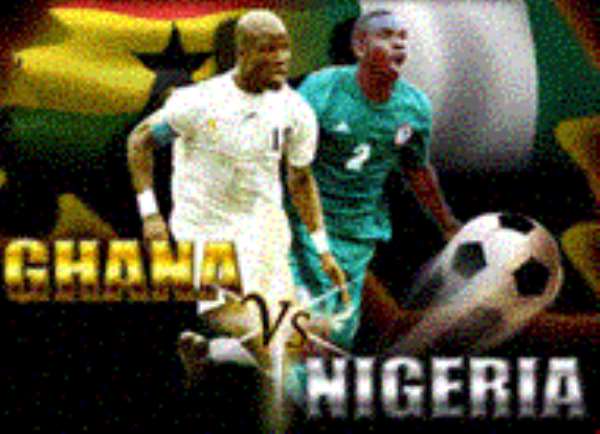 The talking has ended and it is time for the action to commence.Every Ghana versus Nigeria match has the potential of being explosive, exciting sensational and what ever else one may decide to cal it.
This game is no different and it may just be THE mother of all Ghana versus Nigeria encounters.
The myth that (Africans) Ghanaians and Nigerians are poor planners and cannot organise anything except christenings,weddings and funerals has been blown away.
The level of commitment, order and focus by the organisers has been tremendous and little wonder that the match is a sell out!
The Brentford Stadium will be bursting at the seams from 7:45 pm. Who is Jo Kufour? Will he play? will Quincy show up? Is Essien focused for the game?
And on the Nigeria side they are asking who will strike up front and who will be in defence? Is Martins up for the encounter or will he save his limbs for Newcastle?
What about Mikel Obi...will he play? By the end of 90 minutes most of these questions would have been aswered.
Credit must go to the men behind the scenes and the Ghana Nigeria network.
Freddy Appiagyei and Ato Anderson of Logic Media as well as Osim Sports director Rotimi and Justin Addo and his team not just for their sterling efforts in putting the match togerther but more importantly without the usual confusion and rancour that goes with it.
Where ever there is a major Ghanaian event in Europe then it means Dennis 'Radical D' Tawiah of D-Vision Network is in the house or nearby and this time it is no different.
With just a few hours to kick off, there are already pockets of Nigerian fans and two bus loads of Ghanaians waiting for the entrance gates to be opened at 6pm.
Whatever happens on the pitch and whoever wins the game, football will be the winner and hopefully the fans from both sides will go home side by side.