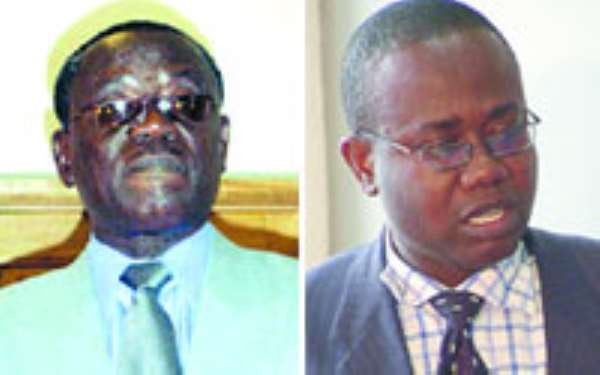 THE SLENDER difference in points in the Onetouch Premier league suggests, that there is the likelihood of changing faces of occupants in the top spot before the competition hits the end of the road.
Although refereeing has raised eyebrows among soccer faithful, the competition has not lost its steam and seem be heightening in tempo as the weeks roll by.
Hitherto to Kokoto's reign, Ashantigold occupied the top spot for many weeks in the first round until Kotoko handed them a 1-0 defeat to go past them.
Currently, Hearts of Oak are in the helms of affairs with 33 points. Kotoko, Heart of Lions, Ashantigold and Berekum Arsenal are following with 31, 30, 28 and 26 in that order.
The closeness in points, points to the fact that a slip and a win by any of the first five teams could change the positions on the standings.
In time past, the tempo in the competitions made predicting winners of league easily, but the trend this season's is taken makes it difficult to predict whether team A or B will finish tops.
Kotoko has lost four games in succession and are still occupying the second spot-a situation which would have thrown them out of contention but appear potential winners to defend their 2005 title.
The current contrary winds blowing in the camp of the Porcupine Warriors has negatively affect the team so much that fanatics are reading meanings into their recent predicament.
Arguably, what can revive the Porcupine spirit and bring back the smiles of their fans is nothing, but an emphatic win over Ashgold in their clash today at the Len Clay Stadium.
But that task appears gargantuan taking into account the rivalry that exists between the two sides.
The two sides have points to prove-while Kotoko seem revengeful following the relinquish of the SWAG Cup to the Miners, Ashgold, on the other hand appear determined to grab all the points at stake, having shared honours with visiting Tema Youth last Sunday.
After beating their arch-rivals back-to-back, complacency seem to have crept into the camp of the Phobians are yet to win a game after conquering the Porcupine.
The Phobians' expatriate trainer, Mitko Kostadinov Dobrez couldn't hold his tears when he suffered his first defeat against Power FC at the Tema Park last Saturday.
Indeed, the defeat came as a shock to the entire Phobian family as the players remained immobile after the game against the struggling Anue Mensah side.
However, last Saturday's defeat before home crowd seem to have alerted the Phobians to keep up the pace in the competition.
Ashantigold, Lions, and Arsenal appear to have girded up their loins to fire from all cylinders to probably change the old order in the competition, but that cannot be predicted until the last whistle.