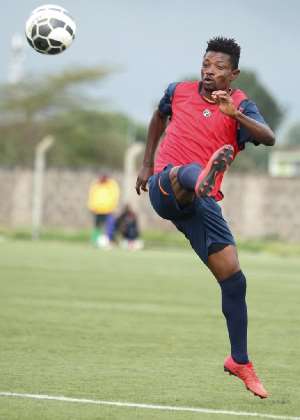 Rivers United Ghanaian striker Paul Acquah has scored all three goals as his Nigerian side defeated Africa power house Congos Motema Pembe 3-1 in a CAF confederation cup match .
Acquah has succeeded in placing his Nigerian club and they are on top
Of group B with nine points from four games played so far .
ASEC Mimosas are second on the log with seven points whilst Diablo's Noir and Motema Pembe are third And fourth respectively.
Whilst Ghanaian clubs are struggling in CAF competitions ,Acquah is scoring in more goals and is a
wake up call for the Black star coach who need players who perform well in CAF matches to join his team .
Acquah in Nigerian league is seen as a hero scoring most of the goals for the Nigerian league champions
Paul Acquah is a highly talented player hungry for success and his inclusion in the black stars team will help a lot as he is espoused to CAF Africa players and will be good for the qualifiers as some African nations used players from the CAF leagues.
Source Frank Owusu Obimpeh