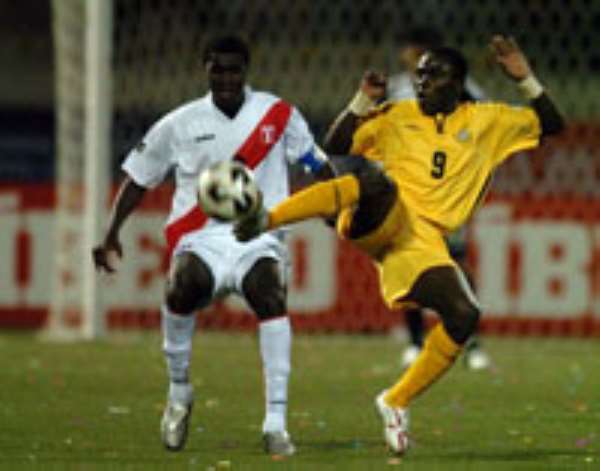 The head coach of the Black Starlets, Bashir Hayford has sparked controversy over winning bonuses for the technical team of the Black Starlets that ensured Ghana qualified for the 7th African Youth UInder-17 Championship slated for Togo in March next year.
Bashir Hayford has frowned upon the Management Committee of the Black Starlets' decision to give him a winning bonus of $1000 instead of the normal winning bonus he has been receiving.
Hayford is incensed by a comment he alleged was passed by a member of the team's management committee, Nana Okofrobuor Kojo Budu, saying he was lucky to have been considered for a winning bonus when he was not on the team's bench on the day it played the match.
He contends he is not raising questions against the amount given him as winning bonus, adding the rationale behind his being given that amount is questionable.
Hayford says he will check the veracity of the rationale behind the action with the GFA Secretariat.
Although he reckons he was actively involved in the team's preparations for the second leg of the qualifier against Cote d' Ivoire for just a day, Bashir Hayford holds the view the action by the management committee is a slap in the face of fairness.
In the disbursement of winning bonuses for members of the team, the head coach's entitlement was given to Emmanuel Quarshie, who headed the technical team in the absence of Hayford, while Hayford was given the amount for the assistant coach.
Nana Budu says the $1000 Hayford received was in recognition of his valuable contributions to the team, adding it was also to confirm his services for the team have not yet been dispensed with by his employers, the GFA.
Hayford was given the marching off orders in the team's first leg match against Cote d' Ivoire in Abidjan.
In the run up to the second leg game, CAF handed him an eight-match ban, which rules him out of the team for the African Youth Under-17 Championship, if an appeal the committee says it will ask the FA to file fails to achieve the desired result.